In Forgive Me (The Van Allen Brothers #1) by Kimberley Ash, three years ago Piper Mahoney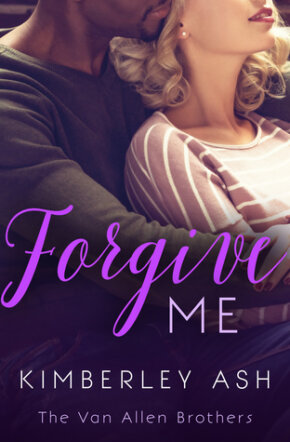 and Lucas Richardson spend a wonderful night together, but decided it was best to go their separate ways. However, after suffering a painful loss Piper packs her bags and heads for New York where she runs into Lucas in the hotel lobby of the place she's working at. Will Lucas and Piper get a second chance at happy ever after or will they go their separate ways again because they have too much going on in their lives to give happy ever after a chance?
She shook her head. "I'm nowhere near being able to have a relationship again. And if you think I'm ever going through –" Her face had hardened, but he saw her struggle to relax. She put her hand on his arm. "You deserve more than that. And I know that your life is too complicated right now to look for it. So I'm suggesting an…arrangement."=
What a heartfelt, nicely-paced, engaging read Ms. Ash has delivered in this first book of her Van Allen Brothers series where the main characters back stories tugged at my heartstrings; the growing relationship between this pair was heart-warming and had me enjoying the strong chemistry between them; and the obstacles these two face to be together had me reading quickly, determined to discover if they'd be able to overcome them all, especially since the heroine faces big trouble when it comes to her career. Will the hero be able to help her overcome the trouble? Will the heroine be able to face her past to finally help her heal?
With the main characters, the heroine is strong, brave, hard-working and I liked how determined she was to fight her own battles until she realizes that she needs help when it looks like someone is determined to go to great lengths to bring her down. Will Piper win the battle she faces and keep her job? I also liked how determined she was to help Lucas through the rough patch he faces and that she doesn't give up on him, even when he gives her every reason to with his out-of-control behavior. While the hero, he's resilient, courageous, driven, confident and I liked that he and the heroine gave each other a chance because they need each other to heal from their pasts. Although, the hero needs the heroine more throughout this story, as he deals with some serious heartbreak and it's no wonder what he goes through leaves him questioning everything and has him making the decisions he does. Certainly, it's time for a change to the path his life is taking.
=Piper stared at him. "You are full of revelations tonight."
"Yeah." He ran his hand over his short hair. "Scaring the sh** out of myself here."
She sat back on her heels, the furthest she'd sat from him in the long hours they'd been here. "Well, stop it," she said sensibly. "No more fear. No more self-doubt." She held his brown hand in her white one. "You and me, babe," she said in a Humphrey Bogart voice.
"You make it sound so easy."=
Overall, Ms. Ash has delivered a really good read in this book where the chemistry between this couple was strong and tangible from the moment they come face-to-face; the romance was delightful, as these two take a chance on each other; and the ending had me crying for Lucas because of what happens, but had me loving that Piper didn't give up on getting through to him since he deserved to be happy just as much as anyone. I would recommend Forgive Me by Kimberley Ash, if you enjoy second chance romances or books by authors Victoria Purman, Elsa Winckler, Eva Gaddy and Ann B. Harrison.
Book Info:

Publication: April 4th, 2019 | Tule Publishing | The Van Allen Brothers #1
When Piper Mahoney and Lucas Richardson randomly run into each other in the lobby of a NYC hotel, three years after they shared one steamy, impossible-to-forget afternoon together, the attraction is tangible. Neither feels ready to act though. Piper has left friends and family in Boston to reboot her life after a difficult loss while Lucas is vying for a promotion at the DA's office and handling his own personal problems with his ailing mother. Impulsively Piper reaches out. Lucas can show her his favorite haunts in the city this summer while they enjoy a friends with benefits fling.
Lucas is tempted. He hasn't relaxed or had fun in forever and Piper was always the one woman who got under his guard.
Can he keep Piper's no-strings bargain even as he falls in love? Or will their pasts strangle any hope for a future?