In Evening Stars (Blackberry Island #3) by Susan Mallery, Nina Wentworth is overburdened with her daily responsibilities. She is at 'standing room only' capacity and the last thing she needs is another burden added to her already complicated life. She only has herself to blame – it seems to be mostly her fault; due to the fact she has the tendency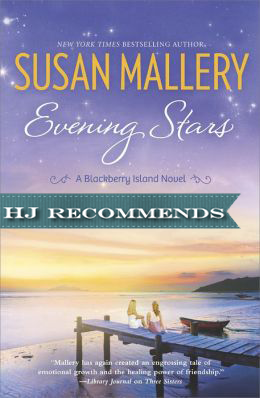 to be a control freak. Nina is determined to handle every situation herself but she quickly learns that she cannot control everything.
Starting with the fact her car leaves her stranded on the side of the road, in the pouring rain. To make matters worse she gets rescued by her high school sweetheart, Dylan Harrington.
"He'd been her first boyfriend, her first time, her first broken heart."
The author puts a unique twist on the typical relationship between mother and daughter. Since Nina was twelve she has overcompensated for her mother's inability to handle even the simplest tasks, like calling the repair man to fix the roof. It is that unreliability that leads to her falling off the roof and into the arms of another man from her past, Kyle Eastland.
At sixteen Nina had babysat for the Eastland family and Kyle, then twelve, had an enormous crush on her. He was completely enamored with her, following her around, confessing his undying love – she was humiliated by his infatuation.
"So fourteen years ago. I was sixteen. I was saving money for college."
"I know. I kept telling you to wait for me, but you didn't listen."
To complicate things even further her sister, Averil, has return to Blackberry Island with a dog in tow.
"You're my queen, Neenie. You'll always be the queen."
I was impressed by the author's ability to allow the heroine to wallow in her regrets without putting a damper on the story. I was especially awestruck with how Susan Mallery handled the 'my life did not turn out as planned' scenario. As a bonus the reader follows alongside Nina as her character matures – each choice she makes toward reclaiming her life is well-thought out. The author creates a nature flow that is engaging. I am sorry that our time on Blackberry Island is coming to an end but, I'll be reunited with this author incredible writing style in to Mischief Bay.
Book Info:

February 25th 2014 by Harlequin MIRA |  (Blackberry Island #3)
Small-town nurse Nina Wentworth has made a career out of being a caretaker. More "Mom" than their mother ever was, she sacrificed medical school—and her first love—so her sister could break free. Which is why she isn't exactly thrilled to see Averil back on Blackberry Island, especially when Nina's life has suddenly become…complicated.
Nina unexpectedly finds herself juggling two men—her high school sweetheart and a younger maverick pilot who also wants to claim her heart. But as fun as all this romance is, Nina has real life to deal with. Averil doesn't seem to want the great guy she's married to, and doesn't seem to be making headway writing her first book; their mom is living life just as recklessly as she always has; and Nina's starting to realize that the control she once had is slipping out of her fingers. Her hopes of getting off the island seem to be stretching further away…until her mother makes a discovery that could change everything forever.
But before Nina and Averil can reach for the stars, they have to decide what they want. Will Averil stay? Will Nina leave? And what about the men who claim to love them? Does love heal, or will finding their happy ending mean giving up all they've ever wanted?