In When You Are Mine (The Bennett's #1) by Kennedy Ryan, Walsh grew up with everything. He doesn't flaunt it though, he uses what he has to do good. His best friend Cam grew up in foster homes, never having his own family. Cam has met the woman of his dreams in Kerris though. Abandoned as a baby, Kerris has been in good and bad foster homes with some horrific experiences. She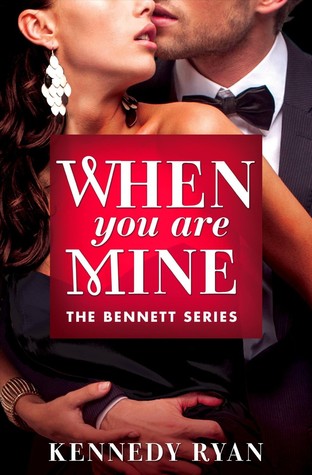 never thought she'd have her own family until she met Cam. She doesn't expect fireworks, and she doesn't get them with Cam. But they have a good, solid, comfortable relationship that Kerris feels safe in.
The instant Kerris meets Walsh though, those fireworks explode! She can't be in the same room with him without being incredibly drawn to him. She is with Cam though, and she trusts her mind, not her heart, no matter what her body is telling her. The instantaneous connection Kerris and Walsh feel can never go anywhere…he would never settle for a woman like her, even if the attraction grows stronger whenever they are near each other. Walsh can't stop thinking about Kerris, can't stop thinking that it is them that should be together. He's ready to risk everything to be with her. Kerris is not though, and when she makes her choice, will any of the three of them be happy?
When You Are Mine focuses on the triangular relationship between Walsh, Cam, and Kerris. They are obviously young people and at times struck me as quite immature. All Walsh can think about is Kerris, who is his best friend's girl. Kerris makes her choice, but is still wishy washy and gives off a lot of conflicing signals. We don't really get to know Cam as well as Walsh and Kerris, but he does manage to surprise me in When You Are Mine, in a way that really made me question his character and integrity in a different way than I questioned Kerris and Walsh's. The focus on the relationship dilemma over shadowed all the positives about these three people. Walsh gives a lot, is close to his family and works hard. Kerris is smart, independent and has goals she is moving towards. Despite these characteristics, I found it difficult to connect with any of the main characters in When You Are Mine.
I did really like how Kennedy brought in Walsh's family and connected them so thoroughly through out When You Are Mine. The sub plots in When You Are Mine were ones that really drew my interest. I would have loved to have a bit more depth to these to enhance the general plot and background of When You Are Mine.
Kennedy gives us lots of conflict between characters in When You Are Mine, both inner conflict when Walsh and Kerris are questioning themselves and what to do, and romantic conflict when Kerris is involved with Cam but very drawn to Walsh. There was a lot of character growth throughout When You Are Mine, but no one is ever really happy and a lot was left unresolved at the conclusion. Unfortunately I had no idea When You Are Mine would end so abruptly and with a bit of a cliffhanger. I believe it is fair to warn you about that if you decide to pick up When You Are Mine.
If you like young adult love triangles and don't mind cliffhangers, you will enjoy When You Are Mine.
Book Info:

Published June 17th 2014 by Forever Yours
Forever is a heartbeat away . . .
Kerris Moreton knows how to make things work. Bounced from foster home to foster home as a kid, she adapted; when opportunity arose, she thrived. Now, about to open her own business and accept a marriage proposal, Kerris is ready to build the life she's always wanted. The only thing missing? A passionate connection with her would-be fiancé, Cam. Kerris wants to believe that sparks are overrated-until Walsh Bennett lights her up like the Fourth of July.
. . . but what about love?
As one of the East Coast's most eligible bachelors, Walsh enjoys financial independence, fulfilling work with his family's nonprofit, and plenty of female attention. But lately he's been distracted by the one woman he can't have. Lovely to look at and even sweeter to know, Kerris is the soul mate Walsh never thought he would find. The problem is, his best friend found her first . . .