Every Summer After by Carley Fortune: Percy Fraser has avoided going back to the lake for 12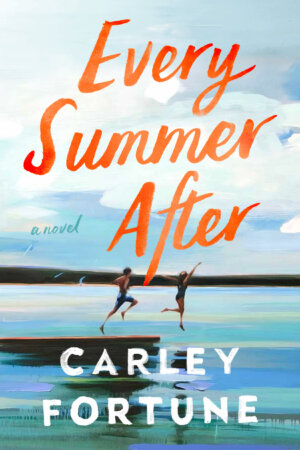 years ever since her life fell apart. One decision caused a ripple effecting leaving heart break in its wake for multiple parties. When she gets a call saying that Sue Florek has passed away, she realizes she has to return. When she arrives, she decides to visit her old workplace which was owned by Sue. As she walks in, she immediately recognizes the man standing at the counter and she is hit by all the feelings she has built up inside.
Sam Florek had his heart broken by Percy 12 years ago, but he never forgot her. Even though her family had come ever summer and break, all of a sudden they sold the house and never returned. When Sam turns around at his mother's restaurant, the last person he is expecting to stand there is her.
As the two try to figure out where to go from there, they have to first deal with everything from the past. As the story switches from past to present, the reader is able to understand how their love bloomed at a young age and where it all fell apart. Dealing with the repercussions of everything, they have to decide where to go now.
Percy is extremely anxious about going back to the lake as an adult. She goes back to support that people that she loves, but she isn't prepared to deal with all of her emotions. As she starts to get to know Sam again and the man he is now, she has a lot to confront to be able to move on from the past. She is such a well-rounded character and that's super important since she is the narrator. You will feel every emotion that she has and want to hug her multiple times. I felt like I could relate to how she was feeling, and I loved seeing her go through her journey.
Sam has been through a lot in his time, but he never forgot Percy. When she first arrives, he just wants to be with her again, but he also must confront the past before they can move on. He may be successful jobwise, but he is not completely fulfilled in his love life ever since he lost Percy. Not only is he mourning the loss of his mother, but he is also elated at the fact that Percy is back and isn't sure how to handle those feelings.
Overall, this is the book I'm going to recommend for a summer read. I definitely want to get a hard copy when it comes out, because it is phenomenal. After reading this book, I can't wait to see what the author is able to do in more writing. Every sentence was thought out and had a purpose, and it was a quick read as well. I shed tears while reading it and now I want everyone to experience the roller coaster that the book put me through.
Book Info:

Publication: May 10, 2022 | Berkeley |
Six summers to fall in love. One moment to fall apart. A weekend to get it right.
They say you can never go home again, and for Persephone Fraser, ever since she made the biggest mistake of her life a decade ago, that has felt too true. Instead of glittering summers on the lakeshore of her childhood, she spends them in a stylish apartment in the city, going out with friends, and keeping everyone a safe distance from her heart.
Until she receives the call that sends her racing back to Barry's Bay and into the orbit of Sam Florek—the man she never thought she'd have to live without.
For six summers, through hazy afternoons on the water and warm summer nights working in his family's restaurant and curling up together with books—medical textbooks for him and work-in-progress horror short stories for her—Percy and Sam had been inseparable. Eventually that friendship turned into something breathtakingly more, before it fell spectacularly apart.
When Percy returns to the lake for Sam's mother's funeral, their connection is as undeniable as it had always been. But until Percy can confront the decisions she made and the years she's spent punishing herself for them, they'll never know whether their love might be bigger than the biggest mistakes of their past.
Told over the course of six years and one weekend, Every Summer After is a big, sweeping nostalgic look at love and the people and choices that mark us forever.