Right Number, Wrong Girl by Emma Hart: When Sophie answered her roommate and best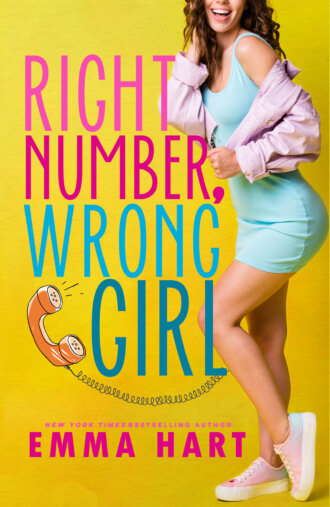 friends work phone, the last thing she expected was to find herself heading to the countryside to help plan a birthday party for the most sassy Duchess. But with Camilla being tied up in Norway its up to Sophie to pull of the birthday fir for royalty, to bad Soph is probably the least organised person ever! Not wanting to let her bestie down Sophie pulls on her big girl panties and gets down to business, all she has to do is contend with one overbearing Duchess, one kooky Dowager Duchess that doesn't even want this 80th party and one very charming duke to be Hugo. Oh and there is also someone trying to sabotage her work, so this should be fun… right?
There is just something so warm, comforting and down right hilarious about reading an Emma Hart book and this is exactly the feeling you get after reading Right Number Wrong Girl. This book had the makings of being one of those cute Hallmark movies. I just loved how invested and involved all the characters got in helping Sophie pull off this birthday party.
Sophie was just amazing! I loved following her around as she posed as her best friend to try and make this the birthday party of the year. Not only was she hilarious but she was genuinely a nice person trying to help her friend out of a jam. I really liked that she was this functional hot mess and that she never once backed down from achieving her goal. I have to say the banter and connection between Sophie and Hugo was insanely hot, I loved the love hat banter that these two shared. Right from their hilarious first meeting these two had me hooked and ready to see how their relationship played out. I will say that I did feel really bad for her once ever thing came to light and the way the Duchess treated her but I think Hart tied up their little rift really nicely.
Now for our charming soon to be Duke, Hugo. It's pretty hard not to adore this guy. I just loved getting to see him with Sophie and that he was on her side all along. The entire mistaken identity thing really worked for their story and helped them bond in a large way. For all his up tight royal-ness Hugo was a real sweetheart, I really loved the bond that he had with his family, even the slightly competitive relationship with his brother.
The secondary character largely made this book the total hit that I found it to be, right from the Duke, Henry, Cait and the Duchess herself they all played such a big role in making this book so perfect. However it was Evelyn that just stole my heart, this kooky old gal was a hoot from start to end. She added so much humour to his book with each of her weird requests and that she was trying to put up all these roadblock in her Hugo mums plans. I just loved that she connected to Sophie and their love for a perfect cup of tea – I can so relate to this one.
Right Number, Wrong Girl is a hilariously cute royal romcom that will you have giggling from start to end while being low on drama but high in entertainment. I can not wait to see which Aristocrat Emma has lined up next!
Book Info:

Publication: April 24, 2022 | Pub: Emma Hart |
Taking a work call for my best friend in my undies? Check.
Filling in for her after an emergency and getting mistaken for her? Check.
Royally messing it all up until the hot duke-in-waiting I hate but can't keep my hands off steps in to save me? Uh, check…
Yes, yes, that all sounds wonderful, doesn't it? Until you consider I now have to plan and execute an 80th birthday party for The Dowager Duchess of Devon, and I can't organise my hairbrushes. The current duchess is the ultimate Type-A personality, determined to micromanage the entire thing.
I'm a type… XYZ…LMNOP… Maybe not even that.
When all my attempts go to hell in half a handbasket—I can't even mess up properly—the only hope I have to pull this thing off is duke-in-waiting Hugo Edwards.
The dreamy, handsome, makes-my-heart-pitter-patter, arrogant tosspot Hugo Edwards.
He and his brother are the only people who know who I really am. The success of their grandmother's party relies on us getting along long enough to make it happen—and me and Hugo keeping our hands off one another behind closed doors.
None of which is easy to achieve.
When my best friend shows up to take over from me, the fact that I've fallen for Hugo is the least of my worries…