In Every Wrong Reason by Rachel Higginson, Chicago inner city high school teacher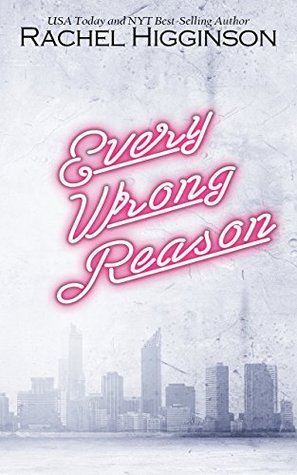 Kate Carter has become disillusioned when it comes to her marriage and her husband, lead singer and guitarist Nick. Gone are the lusty days of their courtship and the 'honeymoon' period of their relationship. These days Kate is lucky if they don't end up arguing over the stupidest of things, like what pizza to order. Unable to go on dealing with their constant bickering, she does the unthinkable and tells Nick she wants a divorce.
'I needed it to get better. I needed to know I could survive this. Because right now…right now leaving Nick…healing from our brokenness…moving on with my life… It all felt impossible.'
Kate and Nick's trial separation leaves them both feeling lost and disheartened. But after months of no contact, to see that Nick is making changes in his life that Kate has been nagging about for years, like getting a job and taking a break from his band, she's even more angry. She can't understand why he's making things more difficult when she tries to move ahead with the divorce. So as they finally start to communicate, getting to the heart of their issues, will Kate and Nick decide to go their separate ways for good? Or will they find that with some patience and hard work, they still have enough love between them?
'His body pressed against mine with a possessiveness I had never felt from him before. It was like he was declaring that I was still his, that I was still his wife. Until every last paper was signed, I still belonged to this man.'
Every Wrong Reason was a bumpy and intense journey where our protagonists had to decide if divorce was the only option to save their sanity–and their lives–from imploding.
This was a really tough book to review and rate. It's not that I didn't like it. Just the opposite is true. I came to care very much about both Kate and Nick and got swept up in the drama that surrounded them. But I know that my opinion on their angst may differ from other readers. I have a feeling that some may not be able to get through the pity party Kate throws for herself. But then again, this is a break up novel, and I feel like it's not going to be happy and pretty. It's going to get down into the tough, gritty places inside our characters. Something that author Rachel Higginson truly excels at.
Written from Kate's POV, we got an inside look into how she fell victim to getting absorbed by the everyday minutiae that can drive a spouse crazy: toothpaste in the sink, water on the bathroom floor, no text or call when running late. To me, Kate's fixation on the little things was actually her way of not dealing with the larger issues at hand (which I will let you find out about on your own). But like a lot of break up stories, I think it boiled down to a lack of communication. And after seeing what Nick and Kate went through, this is the type of story that can have a reader taking a closer look at their own relationships. If for no other reason than not wanting to end up in the same predicament our main characters did!
Now it wasn't all gloom and doom. There were some decidedly fun scenes as well as some very steamy ones, too. Kate's inner monologue was pretty hysterical sometimes while she was working through a situation. Even she realized how depressing and 'harpy' she sounded and tried to get herself out of that rut. Nick was quite honestly not as complex as I thought Kate tried to make him out to be. As a reader, I loved Nick and figured out easily what his intentions were. But I also thought it was realistic that Kate was too emotionally involved to see it clearly for herself.
One other important character to keep an eye on is Annie, their cute little beagle. She has her own drama toward the end of the story and it turns out to be the catalyst for Nick and Kate's decision whether or not to divorce. Annie was a scene-stealer, that's for sure!
If you enjoy stories rife with introspection and personal growth, I think Every Wrong Reason is for you. Rachel Higginson's detailed and emotionally-fueled writing style was perfect for Kate and Nick's tough situation.
Book Info:

Publication: Published September 22nd 2015 | by Reckless Siren Publishing |
First comes love.
Then comes marriage.
Then comes the… really nasty divorce.
Kate Carter thought she married her soul mate. She thought she had her happily ever after. But seven years into Kate's marriage, she realizes that her husband Nick is not what she wanted. He's selfish, he's oblivious and he doesn't love her anymore.
Maybe she doesn't love him anymore either.
Divorce is the only option if either of them wants to find happiness.
Kate and Nick thought they knew what they wanted, but neither is prepared for the heartache that separating will bring them. The journey they embark on is not the freedom they wished for, but a painful look at the people they've become.
At the end of it, Kate has to decide if this is really the life she wants or if maybe there's a way to salvage her broken heart.