Evidence of Desire by Lexi Blake: Isla is smart, sexy, and dedicated to her clients. She's the personal lawyer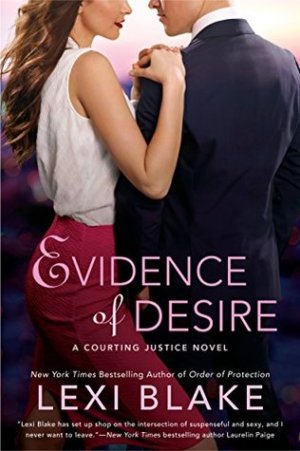 for a famous quarterback and his family, but they are more like family to her than just clients. She's a straight-shooter, plays by the rules, and tends to be a workaholic. She's spent most of her working life around athletes and she's good at managing at them.
David is a former NFL player turned top notch criminal defense lawyer. You definitely want him to defend you, should you need a lawyer. He's ridiculously good looking, commanding, powerful, curious, and charming. He's fairly content with how things are and has no plans to look for a relationship or commitment.
Isla's world is turned upside down when her good friend and client is killed. Bringing in David is a smart call with his NFL background and track record of success. There are immediate sparks between them as they work together on the case. It may not be a great idea to get involved, but their attraction is one thing that makes sense for them.
"I like your friends." She had to stop thinking about him that way or she might make a complete fool of herself.
"I'm glad you do because I'm giving them all another look," he said. "Turns out they're all nosy busybodies. I can't imagine what you thought when you opened that door the first time."
As this case unfolds with new twists and turns, they have plenty of time to get to better know and understand each other, personally and professionally. They may have started with an intense attraction, but he loves how feisty she is and how she doesn't back down from challenges. They rely on each other and their connection deepens as they get closer to figuring out the dangerous truth of what really happened to Isla's friend.
"No, you've talked enough. Now you're going to listen. I'm not weak. I'm not some fluffy thing you need to protect. I am a grown woman who knows exactly what I want and who I want it with, and I'm brave. I learned at a very young age that life isn't neat and tidy. It isn't fair, but it can be beautiful. Even when it's at its harshest, it can be beautiful if we let it."
Evidence of Desire is emotional, sexy, heartbreaking, and full of suspense. Lexi Blake created a powerful and intriguing story that unfolds with plenty of drama, angst, and surprises while exploring the marriage in its many forms. Ms. Blake developed a strong cast of characters with interesting dynamics. Evidence of Desire can be read as a standalone in this series. Fans of Shayla Black, Roni Loren, and Meredith Wild will enjoy Evidence of Desire.
Book Info:

Publication: January 8th 2019 | Berkley | Courting Justice #2
A fast-paced contemporary romance that sizzles from the New York Times bestselling author of Order of Protection where passion for the law isn't the only thing heating up the courtroom.
Isla Shayne knows she's in over her head. As former all-star linebacker Trey Adams's personal lawyer, she's used to handling his business dealings and private financial matters, not murder charges. She needs to find an experienced criminal attorney who speaks her client's language. David Cormack of Garrison, Cormack and Lawless is exactly what she needs in the courtroom–and the only man she wants in the bedroom.
For David, taking on the Adams case means diving back into a world he thought he'd left behind and colliding head on with tragic possibilities he's in no mood to face. There's a reason professional football is in his past and no matter how close Isla gets to the truth he intends to leave it there.
But long days working on the case together lead to hot nights in each other's arms. As their feelings grow, the case takes a deadly twist that could change the game between the two lovers forever.