Her Brooding Scottish Heir by Ella Hayes: Milla O'Brien is traveling from London to Strathburn Brothy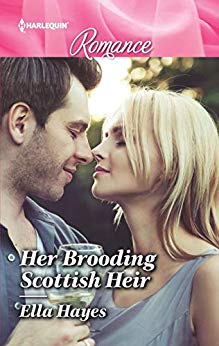 (cottage) on the Calcarron estate in Scotland. She needs a quiet place to find herself again after her fiance broke off their engagement. Milla is an artist who has lost her focus due to her sadness over the broken engagement. She believes two weeks at the brothy in Scotland with lots of beauty in the scenery, peace and quiet will reawaken her muse in time to get some artwork done for her postgraduate art exhibition in six weeks.
As she approaches her destination one of her car's tires has a blowout and she finds the lugnuts are fastened too tightly for her to undo them to change the tire. Along comes Cormac Buchanan,heir to the Calcarron Estate to the rescue. Cormac, a commander in the Royal Engineers, is a troubled man. He blames himself for the death of his best friend with whom he was serving in Afghanistan. He has withdrawn into himself and is wallowing in self-blame so much his family is worried about him. When Milla and Cormac meet they find themselves attracted to each other. Both have baggage with which to deal. Can they help each other to overcome their unhappy pasts and find happiness together?
Her Brooding Scottish Heir by Ella Hayes is a sweet romance. While there are lighthearted moments in the story there is also much angst. Milla and Cormac fight their feelings throughout most of the book. I was glad to finally get to their HEA. This book is well-written but a little slow at times. Sometimes the main characters' angst was a bit overwhelming. Their newfound happiness towards the end of the book was a plus for this story.
Book Info:

Publication: December 27th 2018 | Harlequin Romance |
A kiss under the Northern Lights…
Running from her broken engagement artist Milla O'Brien retreats to the Scottish Highlands. Only to arrive during a lavish wedding on the estate!
She finds the bride's brother and brooding heir, Cormac Buchanan. Could they heal each other's hearts?