In Evvie Drake Starts Over by Linda Holmes, It's been almost a year since Eveleth "Evvie" Drake's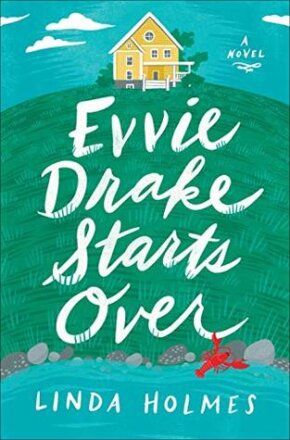 husband died in a car accident, leaving her a widow before her thirtieth birthday. Since then, she's been rattling around in their huge home in Midcoast Maine, making appearances in town only whenever absolutely necessary. Tim's death hit Evvie pretty hard–but not for the reasons everyone thinks. When her best friend Andy suggests she rent the apartment in her big old house to former major league pitcher Dean Tenney, Evvie decides to give it a go. She could use the income…and the company, if she's being honest. But who knew what a life-altering adventure it would become for Evvie.
'Kissing Dean was a lot like talking to him: it was easy. Well, it was easy and it made her want to rip her clothes off. So, still similar.'
Dean's successful baseball career came to a screeching halt when he suddenly couldn't pitch anymore. Nothing helped. And he certainly tried everything. He isn't the first athlete to be hit by the "yips". But it put a dent in his confidence, that's for sure. So when Dean's friend Andy suggests getting away from the media and naysayers in NYC by spending time in Calcasset, Maine, how could he refuse? Especially once Dean meets his landlord, Andy's BFF, Evvie. They get along famously and decide right off the bat not to mention their pasts. But as their friendship eventually morphs into something a bit more, Dean knows that for it to work, they'll have to come clean about the issues they're each still sorting out.
"I live in your house and you say we're friends, but I don't think I have the first fucking clue what's going on with you… You want me to deal with my shit, you know what I say? You first."
Evvie Drake Starts Over was a completely engaging novel that had quick dry-witted humor from two main characters stumbling through life after huge events changed the path they were on.
'Oh, that's right, she thought. I remember having good days.'
I had a whole lot of fun getting to know Evvie (name rhymes with Chevy) and Dean–and Andy, Monica, Frank, etc–as they all made some mistakes, learned a few lessons, and finally settled into their new lives. I also loved getting to read a new-to-me author. Linda Holmes told an interesting story here and did a great job capturing the feeling of living on the coast of Maine. Being a lifetime resident myself, it was like reading about neighbors and friends, right down to the dry sense of humor and penchant for being workaholics. (lol)
There were a few twists to Evvie's personal journey that I won't spoil but that got doled out over the course of the story which made the story even more interesting. Let's just say that her marriage sadly wasn't exactly what everyone on the outside thought it was. And it left Evvie in a weird position when her husband passed away suddenly. The feelings she had to work through were all too real and Holmes definitely nailed the way Evvie behaved and reacted because of it. I should mention that she was a people pleaser. Which I know some readers don't like. But it seemed as though it was the natural way Evvie would have evolved after the childhood she had.
Then we had Dean. Overall he was a solid hero who was down on his luck but who knew himself well enough to know he needed a change of scenery. His childhood buddy Andy was Evvie's best friend. Strictly platonic, but they had a super strong friendship. You could kind of see where Dean and Evvie's relationship would probably end up, with them having some kind of romantic entanglement instead of just being tenant-landlord. But it certainly didn't go the way I thought it would. So I have to give Holmes kudos for letting things between Evvie and Dean take whatever time it needed to play out. (Again…trying not to give spoilers!!)
After being utterly charmed and 100% swept away with Evvie Drake Starts Over, I can't wait to see what Linda Holmes does next. Her keen eye for detail as well as her convincing storytelling ability will undoubtedly give us another entertaining story to devour.
Book Info:

Publication: July 31st 2020 | Ballantine Books |
In a small town in Maine, recently widowed Eveleth "Evvie" Drake rarely leaves her house. Everyone in town, including her best friend, Andy, thinks grief keeps her locked inside, and she doesn't correct them. In New York, Dean Tenney, former major-league pitcher and Andy's childhood friend, is struggling with a case of the "yips": he can't throw straight anymore, and he can't figure out why. An invitation from Andy to stay in Maine for a few months seems like the perfect chance to hit the reset button.
When Dean moves into an apartment at the back of Evvie's house, the two make a deal: Dean won't ask about Evvie's late husband, and Evvie won't ask about Dean's baseball career. Rules, though, have a funny way of being broken–and what starts as an unexpected friendship soon turns into something more. But before they can find out what might lie ahead, they'll have to wrestle a few demons: the bonds they've broken, the plans they've changed, and the secrets they've kept. They'll need a lot of help, but in life, as in baseball, there's always a chance–right up until the last out.