You May Kiss the Bridesmaid by Camilla Isley: Weddings are supposed to be a happy time for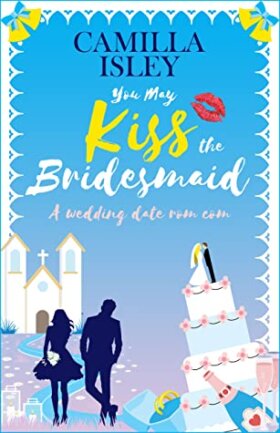 everyone involved, especially if it is your twin sister. Well this is not entirely the case for Summer, yes she is thrilled her twin has found her happily ever after but she really does not want to go and face all the ex-friends and get judged for the biggest mistake she has ever made. But Summer is determined to suck it up and help make her sisters day everything she dreamed it would be. Her plan; lay low and just get through the week long festivities, this shouldn't be a problem at all seeing as she has sworn of men altogether. This plan however is short lived when on her very first night in Napa Summer meets Archie.
Archie has never been one for commitment, the entire idea of marriage baffles him, but a wedding on the other hand is the perfect place of a quick and easy fling. Being the best man, his main job really is only to keep the groom chilled and make sure he doesn't forget the rings, right of the bat Archie forgets to pack the rings which delays his arrival to the resort in Napa. Wanting an easy unwind evening Archie finds himself down at the hotel bar watching the game and having a beer, he definitely was not expecting to see the bride-to-be at the very same bar, but as it turned out it was not his old friend Winter, it was in fact her twin sister Summer. Instantly enamoured by this paradoxical beauty, Archie suggests that they provide each other a companionship for the week, that way helping keep that haters of Summers back and he gets a beautiful women in his bed for the week. At first Summer laughs of his advances adamant that she wants to remain man-free, but when a slap back from her past pushes her into wanting some comfort and so begins what was supposed to be a week long no strings attached hook up.
"How will I ever go back to dating regular, run-of-the-mill guys? Archie is the Cabernet Sauvignon of dating. He'll ruin men for me."
Soon their supposed only hook up turns into the pair sneaking about to have stolen steamy moments and sharing flirty texts. With Archie warming to the idea of continuing their relationship after the wedding, everything comes to a crashing halt when he is faced with a hard truth that Summer wants more, she wants to have kids and a husband and her happily ever after. The question is will Archie let his fears and insecurities hold him back from everything he never realise that he wanted?
"That is a smile that could launch a thousand ships, you know, if we were living in ancient Greece or something. A smile that could light up a whole town, and it's just for me."
You May Kiss The Bridesmaid was a brilliant romcom read. I absolutely loved every minute of Summer and Archie's romance and having the Napa Valley as the backdrop only added to this beautiful romance, who wouldn't want to fall in love in wine country. It was nice that the novel was given to us in both characters P.O.V that way allowing us to see how each felt. Even though this novel is part of a series, I found that I enjoyed it all the same as a stand alone read.
"Summer, I've been stupid. I had no idea what I wanted before you showed me. I always thought marriage wasn't for me, that I would never find a woman I needed by my side every day, but you are that woman, Summer Knowles."
My heart went out to Summer for the way her friends and family were treating her, no one wants to constantly be seen for the mistakes they made, much less be ostracized for it. I hated that her own mother held it against her, but in saying that I did like that Winter was quietly protecting her. On the mater of her twin, well all was going well that I was not a huge fan of the way Winter handled the whole Archie situation, never the less it all worked out in the end.
"Certain things are worth waiting for, I've been waiting for you for a long time."
I will say that the thing I liked the most about this novel was the pure heat and passion between Summer and Archie. Their chemistry was of the charts and that much was evident from their very first meeting. There were so many cute moments throughout the novel that just added to the charm of this romcom. I would definitely recommend getting a copy of You May Kiss The Bridesmaid this steamy and cute romance will have you wishing that you could have a wedding meet cute like this.

Book Info:

Publication: July 23rd 2020 | Pink Bloom Press | First Comes Love #6
Archibald Hill is handsome, single, and he's going to his best friend's wedding ready to make a conquest or two. After all, everyone knows weddings are the perfect setting to get lucky.
Summer Knowles used to have a life—friends, family, a sister who'd do anything for her—until she blew it all away with a terrible mistake. Now, attending her twin's wedding as the party's undesirable number one seems like more than she can handle. So, when a tall stranger with smoldering ice-blue eyes offers her a therapy of seven nights of no-strings-attached fun, she might even ignore that he has a beard and accept.
Problem is, Summer has never been good at keeping sex and feelings separated…