The Rebellious Rancher by Kate Pearce is the third book in her Millers of Morgan Valley series. This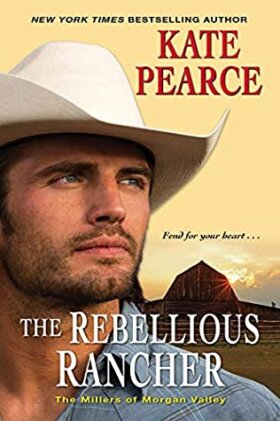 has been a very entertaining series to read so far. Hollywood invades ranch country. Opposites attract on a ten-day trail ride.
Silver Meadow is a famous actress who has very much lived the Hollywood life. Her acting career began when she was just a baby and that has been her life throughout her childhood and now as an adult. She is now twenty-five and really wants the leading role in an independently produced Western film. She feels she needs to experience what Western life would be like so she goes on a ten-day trail ride out of the Morgan Ranch in Morgan Valley, California with just her trail guide Ben Miller. She never imagined just what exactly "roughing it" on this trail ride would be like. She has five suitcases, her full beauty product regimen and where does she plug in her adapter to charge her cell phone. But NO… No place to plug in so no cell phone and she can only bring a very limited amount of clothes that fit in one bag on the pack mule. Ben Miller even expects her to set up her own tent, help set up their camp sites and help with the horses and pack mules. She knew she needed to pull up her big girl panties since she is getting just what she asked for – a realistic Western experience. What she didn't ask for or expect was to fall for her handsome hunk of a guide Ben Miller.
Ben Miller is very disgruntled when he finds out his father set up his will to leave the family ranch to his older brother. He works just as hard on the ranch. So Ben decides to look for a ranch manager position in the area and takes on doing trail rides out of the Morgan Ranch on the side. The ten-day trail ride with actress Silver Meadow should be quite an experience. It doesn't start out well when Silver brings five suitcases and thinks they will be transported. Then she thought a crew would be available to set up her tent, set up camp and cook meals. That's not how this works Miss Hollywood Star! He was surprised though that he could so easily talk to Silver and he found he liked her. Really, really liked her! But they come from two different worlds. Nothing can come from this mutual attraction.
This book is Ben's story and I never would have guessed he would fall in love with a Hollywood actress. Silver Meadow is not what I expected. She has had some problems to overcome but her determination to make things work with Ben is admirable. I really liked how well this storyline flowed and that it is more believable than I expected it would be. This was an excellent read! I look forward to the next Miller's story – Kaiden Miller in The Rancher Meets His Match.
Book Info:

Publication: July 28th 2020 | Zebra Books | The Millers of Morgan Valley #3
Attachment to the land, hard work, and community, sets the folks of Morgantown apart from the everyday, and always brings them back to the ranch—where they might even find love . . .
After his father decides to leave the ranch to his older brother, usually calm, steadfast Ben Miller struggles to deal with his resentment. When he's invited to develop a trail riding experience on the Morgans' dude ranch, Ben jumps at the chance. Soon he's assigned a mysterious client, an actress whose family secretly wants her removed from influences in LA. Ben's determined to teach her to fend for herself. But he quickly discovers she's more than a pampered pretty face . . .
Silver Meadow believes she's preparing for a serious dramatic role—one that will free her from her controlling parents. She's certainly not going to be controlled by Ben, especially when he takes her out in the middle of nowhere to learn how to survive. Yet gradually, far from her cell phone, Silver begins to open up to him about her life—and finds they have more in common than they thought. Soon a romance blossoms—but can a jet-setting movie star and a homebody cowboy find the best of both worlds?