In Just For Today… by Emmie Dark, Jess Alexander feels awkward sitting alone at a table at her friend Hailey's wedding. She's about ten years older than everyone else partying on the dance floor it seems and she's ready to leave as soon as the opportunity presents itself. She isn't expecting that opportunity to be in the form of the bride's new brother-in-law, Sean Paterson. She's torn when he offers her a glass of champagne and begins to lay on the charm. She's heard about the handsome writer and the stories of his womanizing ways through Hailey. Jess must admit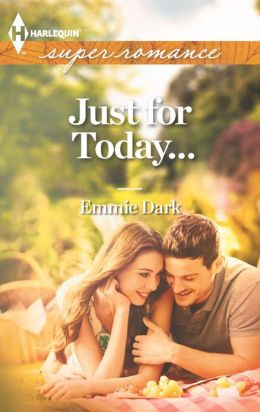 he certainly is witty and gorgeous, though. And she's been alone for too long. After her divorce six months ago, she thinks she's finally ready to have a little bit of fun. Under the promise of just going for a drive, Jess leaves the wedding reception with Sean in his beloved muscle car.
"At least with someone sitting with her, she wouldn't look like such a loser. Not to mention that he was the man she'd been trying hard not to stare at all afternoon. In this instance the term best man was more than a job description."
Sparks immediately fly between them and she agrees to go back with him to his brother Rob and sister-in-law Hailey's house where he'll be housesitting for a few nights. They share an intense, passion-filled evening that gets cut short when Jess freaks out a bit and panics. A slight mishap with his brother's accident prone dog, Suzie, brings Sean to Jess's clinic a short while later. They decide to go out on a date while he's in town longer than originally expected. One date leads to another, then another, and before long they are spending several nights a week together going out. Jess is thrilled to learn that Sean is a smart, focused, compassionate man who is also an extremely successful writer. Her feelings for him grow and without realizing it, she falls for him completely. She finds herself hoping they can build a relationship but is too afraid she'll be second best to his career as she was with her ex-husband. What will she do when this nomadic man leaves as planned for his next adventure ?
"A stupid, primal male pride swelled Sean's chest at her response. Jess Alexander, cautious, careful and restrained, had almost lost it in the middle of a public place because of one little kiss. From him."
Sean Paterson is doing his best to fit in at his little brother Robert's wedding. He's very proud of him, but wishes his parents would show him just a little bit of that respect and show pride in the successful writing career he's built. Sean notices the beautiful woman sitting alone at a table and makes his way over, convinced he'll have a one night fling before leaving town, but realizes she's not falling for his usual lines. Jess is sexy and smart and he's drawn to her in a way he's never been to anyone before. After much charm on his part, they end up having the most incredible evening together…that is until she demands that she's going home, long before he's ready to call it a night. He's disappointed their time is cut short but fate steps in and he has to housesit longer than first intended. He offers to take her out as a way for her to get back into the dating world. At first it's quite fun. They have a lot in common and she's genuinely interested in his writing. He feels the respect from Jess that he's never received from his family and he enjoys it. He doesn't notice until their time is up that he has deep feelings for Jess. He never thought of himself as someone who would want to put down roots in one place, but he's contemplating laying his heart on the line for the first time with Jess.
Emmie Dark has written a heartfelt romance that is sweet and funny but also filled with personal growth. I fell in love instantly with Jess and Sean. They are both flawed, each having been through their own personal struggles, yet they are at a point where they are ready to step up to the challenges in their lives. I'm sure I've mentioned before how much of a sucker I am for a story that involves animals, and this one fits the bill. Jess being a vet of course has an affinity for animals, and Sean falls for his brother's dog Suzie while he's housesitting. I won't give away the ending, but a dog in need of a loving home plays an important role in helping Jess realize what she is really capable of. I highly recommend this story to contemporary romance fans out there.
Book Info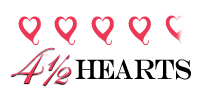 Publication Date: June 4, 2013 | Series: Harlequin Superromance (Book 1859)
She's not 
that
 kind of girl!
Veterinarian Jess Alexander doesn't have one-night stands with the best man at a coworker's wedding. But thirtysomething divorcée Jess is definitely in a rut that a night of reckless passion with a younger man just might break. And what better candidate than criminally good-looking Sean Paterson?
Being with Sean is exhilarating. But where could this relationship possibly go? Expecting anything more than a good time from Sean is a one-way ticket to heartbreak. Against her better judgment, Jess can't walk away from whatever this is…not yet.