Repressed (Deadly Secrets #1) by Elisabeth Naughton: Elisabeth Naughton has the ability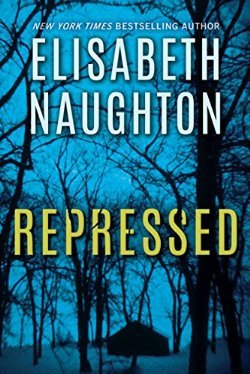 to grab you with her characters, hook you with her stories and leave you satisfied at the end of it all. This book has an amazing story, an amazing suspense that will have you guessing, keep you on the edge of your seat to see what happens next. The twists and turns of this story had me hook, line and sinker. The amazing HEA for Samantha and Ethan is just an added bonus.
When Samantha Parker was just 10 years old, she witnessed the death of her older brother. After that, her entire world and that of her family fell apart. After years away from Hidden Falls, Samantha is back to try and sell her mothers house. Taking and temporary job as the Chemistry Teacher at the local high school, Samantha is biding her time until she can return to California. But when strange and scary things start happening to Samantha, she begins to wonder if she is losing her mind.
Dr. Ethan McClane never thought that he would ever return to Hidden Falls, and if he had his way he never would. But he has been handed a case and needs to follow up on young Thomas to make sure that he is adjusting to his new home, his new school and is staying out of trouble. What Ethan never counted on was the feisty chemistry teacher who has problems with shrinks, but does not seem to hold that against him.
The closer that Ethan and Samantha get, the more strange and frightening things start happening. When Thomas is accused of crimes that he insists that he did not commit, it will take Ethan and Samantha to unravel the web of lies to get to the truth before someone else gets hurt.
What I loved about this story is the twists and turns that the story takes. Just when you think you have things figured out Naughton throws you off in a different direction. That keeps that story moving and keeps the reader hooked until the end when everything comes to light and is explained. Both Samantha and Ethan have secrets that they keep hidden from each other, and all I can say is that when things are revealed it could spell tragedy for the pair.
An amazing start to what is going to be another suspense filled series. I cannot wait to see which of Ethan's brothers fall next.

Book Info:

Publication: July 26th 2016 | Montlake Romance | Deadly Secrets #1
Hidden Falls is exactly as Samantha Parker left it—small, insular, and prone to gossip. Eighteen years have passed since she witnessed her brother's murder, but she's still the talk of the town. Until a handsome child psychologist with haunting memories of his own arrives.
Dr. Ethan McClane isn't exactly a newcomer. If it weren't for his latest case, he'd never set foot back in Hidden Falls. Thankfully, no one seems to recognize him as the troubled teen from years past. Not even Sam, the delightfully sharp and sexy high school chemistry teacher he can't stop thinking about.
When Sam and Ethan work together to help one of her students, sparks ignite. But Sam's hazy memories of a long-ago night concern Ethan, and unlocking the repressed images reveals a dark connection between them. As the horrors of the past finally come to light, their relationship isn't the only thing in danger. A killer will strike again to keep an ugly secret hidden, and this time no one will be safe.