Falling for His Island Nurse by Marion Lennox: Dr.Angus Knox wants to slow down a but and enjoy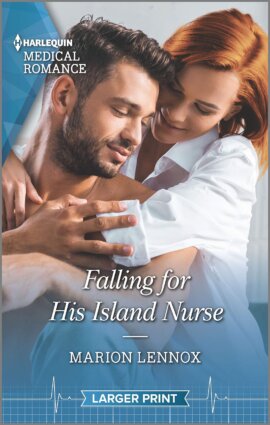 life and actually spend time with his son, so their move to Shearwater Island is exactly what the doctor ordered.
The one thing that Angus did not factor in was the intense pull that he feels toward new colleague nurse Freya Mayberry. However try as he might Freya continues to remain as professional as ever keeping Angus at a distance. But with few stolen moments with the woman behind her guard Angus can't help but think that there is more to the beautiful Freya. But the question is will Angus be able to convince her to take a chance on happiness with him?
I absolutely love a good medical romance and Freya and Angus just made this all the more delectable. I loved watching them fall in love and getting to see Freya open her heart to love again. Angus was such a cute male lead, I loved the relationship that he had with his son and that he wanted to make this change so that he won't miss out on watching his son grow. Though I have to say watching Angus wooing his way into Freya's heart. It was really nice getting to see Freya interacting with Angus and Noah, she was the perfect addition to their little family.
This was a super cute island medical romance that made me swoon and root for Freya and Angus to find their happily ever after. Definitely a must read!
Book Info:

Publication: March 30th 2021 | Harlequin Medical Romance |
Can he prove…
…her heart is safe with him?
For single dad Dr. Angus Knox and his little son, a move to Shearwater Island for a slower pace is just what they need. Angus just didn't count on the intense pull he feels to new colleague nurse Freya Mayberry! She's super professional, but there's something behind her smile that leaves Angus wondering who the real Freya is and how he can persuade her to let him into her world…