In The Butterfly Effect (Boggy Creek Valley #1) by Kelly Elliott, Willamina "Willa" Turner has to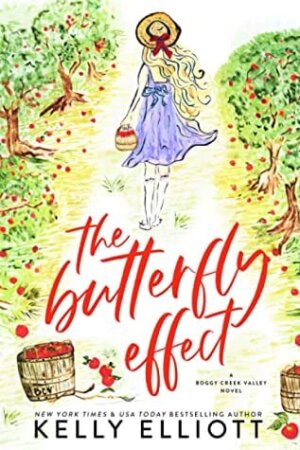 admit that she either has bad luck or bad judgement when it comes to men. Case in point: her newly divorced status after her ex cheated on her with a close friend…while Willa was pregnant. See? Brian turned out to be a very bad choice. But she did get her delightful son Ben out of the deal, so at least that's one positive. Willa can't help but think of another man she's always held close in her heart, her older brother Hunter's best friend Aiden O'Hara. Now a Navy SEAL, he's not been back to their hometown, Boggy Creek, New Hampshire for a few years unfortunately. And Willa's not sure what she'll do when he does come home since she's now single again.
Aiden turned and looked at me, and my stomach dropped as he lowered Ben onto his chest. My son laid his head down on Aiden.
"I do believe you've put my son under a spell, Mr. O'Hara."
With a wicked grin, he said, "I do believe I once had *you* under a spell as well."
"How do you know I'm not still under it?"
Willa knows she's going to have to make a decision about her feelings for Aiden when he surprises everyone by leaving the SEAL team and coming home for good. Taking over his family's construction business is his next step. Just like Willa is learning to take on more responsibility at her family's apple orchard. But when the two of them spot one another, fireworks go off like never before. Neither can deny their pull or the affection they've always had for each other. Aiden is trying desperately to assimilate back into civilian life. But Willa knows he's hiding some horrific memories–and the demons seem to be too much for him to fight on his own. Will Aiden push her away when she offers him a hand? Or will he accept the help so he, Willa, and Ben can start their life together?
"If you're walking through a storm, I want to walk next to you, and if you need me to lead the way, I will."
This! This heartwarming story was an incredible beginning to a new series from one of my favorite authors, Kelly Elliott, who infused The Butterfly Effect with depth and heart, making this small-town romance an utter delight to read.
"That morning, in my parents' kitchen, something changed between us, didn't it?"
I nodded. "It did. One small, innocent smile had a ripple effect on my entire life."
Her blue eyes sparkled as she whispered, "Like a butterfly effect."
Trigger warning: View Spoiler »PTSD, talk of suicidal thoughts/attempt. « Hide Spoiler
I was so excited to get my first look at Boggy Creek Valley, Kelly Elliott's brand new series set in a whole different part of the country than normal for her work: New Hampshire. I'm a New England girl through and through so the setting was already a winner for me. Then I "met" the cast. It was a wonderful ensemble, with Willa and Aiden taking the lead this time, but there are a whole lot of other interesting people who deserve their HEA as well. So Elliott has left room for several characters to get their own book in the future. (Yay!!)
I'm also a fan of older brother's best friend romances. Aiden and Willa were the perfect example of the trope done absolutely right. The book started off in just the right way, with a scene from when they were in high school–Aiden was a Senior, Willa a Freshman–and it was the moment when everything changed between them. When there was a realization of the chemistry they had. From there, I loved seeing how they danced around their feelings. It played a part in nearly every decision Willa and Aiden made going forward. Including when he left for the Navy. That was one huge complication in their lives that I think Elliott painted it in a genuine light. There was obviously so much love between Aiden and Willa. But their paths were headed in different directions.
I think it might be tough for some readers to get through the passages where Aiden remembers his time as a SEAL. He was such an incredibly loyal, kind, extremely strong man so it was rough to see him decimated by haunting memories. Some of it was quite heavy. But I think it made Aiden and Willa's relationship stronger with it being tested pretty quickly, proving how deeply they cared for each other. It also felt like they became a team. Neither of them would let the other walk a troubled path alone, whether it was Aiden's past in the Navy, Willa's trust issues after her divorce and being a single mom, or any family issues that crept up. They complemented each other so well. And her son Ben was a lovely addition to their lives. Although be forewarned: when you read the scenes with Aiden taking care of Ben? Prepare yourselves to swoon big time ladies!! (lol)
The Butterfly Effect was a sexy, sigh-worthy, complicated yet fun brother's best friend romance. And did I mention it was sexy? Kelly Elliott delivered a keeper-shelf-worthy novel–with a gorgeous, whimsical cover, might I add–that I simply can't recommend highly enough.
Book Info:

Publication: April 6th 2021 | K. Elliott Enterprises, INC | Boggy Creek Valley #1
The butterfly effect — one small change, one moment in time that impacts the future.
At twenty-six years old I never dreamed I'd walk in on my husband in bed with my best friend. At twenty-seven years old I found myself divorced, and the mother of a one-year-old son. Never mind I was learning to take the reins of my family's apple orchard business. There was no way my life could be any more complicated…or so I thought.
Can a woman who's lost all trust in men help a man who can't even trust himself?
Aiden O'Hara was my brother's best friend, and I would be remiss if I said I hadn't always found him utterly attractive—and the passing of time or circumstances didn't change that. But when he moves back to Boggy Creek Valley after serving his time as a Navy SEAL, I cannot deny the pull I feel between us.
Aiden is haunted by his own demons—demons that seem bigger than the both of us—and my heart warns me to stay away. I'd been burned already and didn't need that added complication in my life, or so I thought. But one moment in time changes everything between us, and neither one of us can deny the hidden feelings we share.
Our pasts want to keep us apart…our future will be up to the wings of fate.
The Butterfly Effect is book one in the Boggy Creek Valley series and is a stand-alone novel.