Something to Treasure by Virginia McCullough: Having first read about Dawn and her son Gordon in an earlier title set in Two Moon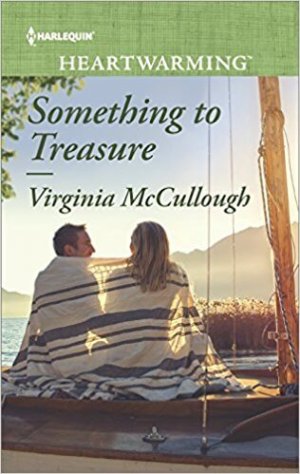 Bay, I thoroughly enjoyed this opportunity to read Dawn's story in Something to Treasure I also enjoyed getting "reacquainted" with Lark and Mile's characters as they interacted with Dawn and with Jerrod in this new story.
In Something to Treasure, Dawn and Jerrod are introduced by a mutual colleague/friend who believes Dawn is just the right Public Relations manager for Jerrod"s new marine business in Two Moon Bay. Dawn and Jerrod feel an instant connection when they meet, and Jerrod i quickly impressed by Dawn's ideas, energy and connections in him getting established in Two Moon Bay. They also feel a kinship in a way as both are single parents.
Their relationship, both professional and persona, is a beautiful one to read about, as they connect in many ways, and their children really adore each other. Yet, Jerrod, because of his past tragedy in how his wife and older daughter passed away, is extremely reluctant to remarry. And Dawn has an immense trust issue after her divorce. Yet neither seem to be able to resist the draw to spend time together.
To find out where their relationship might lead, I recommend highly that fellow readers pick up a copy of "Something to Treasure". It's a perfect read for the holidays!

Book Info:

Publication: January 2, 2018 | Harlequin Heartwarming |
If anyone can save him, she's the one. Jerrod Walters hopes relocating to the coastal town of Two Moon Bay can be the fresh start he and his young daughter need. But the single dad is caught off guard when a beautiful PR professional offers to promote his diving excursions to legendary shipwreck sites. There's so much he admires about Dawn Larson, starting with the woman's upbeat, can-do personality. Dawn's boundless capacity for joy might be the only thing capable of bringing him back to life after his tragic loss…