Today, HJ is pleased to share with you

Loreth Anne White's

new release: 

In The Dark

A secluded mountain lodge. The perfect getaway. So remote no one will ever find you.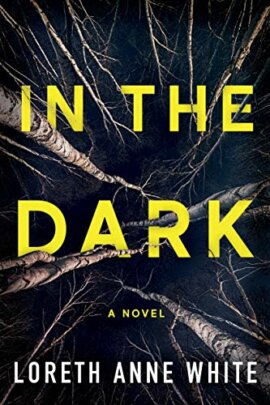 The promise of a luxury vacation at a secluded wilderness spa has brought together eight lucky guests. But nothing is what they were led to believe. As a fierce storm barrels down and all contact with the outside is cut off, the guests fear that it's not a getaway. It's a trap.

Each one has a secret. Each one has something to hide. And now, as darkness closes in, they all have something to fear—including one another.

Alerted to the vanished party of strangers, homicide cop Mason Deniaud and search and rescue expert Callie Sutton must brave the brutal elements of the mountains to find them. But even Mason and Callie have no idea how precious time is. Because the clock is ticking, and one by one, the guests of Forest Shadow Lodge are being hunted. For them, surviving becomes part of a diabolical game.
Enjoy an exclusive excerpt from In The Dark 
The words seemed to rise from the pit of Deborah's stomach and whisper deep inside her brain. Not welcome.

Everyone was quiet.

Stella appeared tense. She leaned forward, studying the place as she taxied up to the listing dock.

The front of the lodge came into view. Rain began to spit. The sky turned suddenly dark. They'd entered the shadow of clouds that poured over the granite mountain behind the lodge. Wind lashed suddenly at them.

The building was constructed of logs. Double story. All the logs had been worn so dark the building looked silvery black in this light. Rows of windows watched them from upstairs, dark-green shutters like eyelids placed at their sides. Above the front door hung a rack of bleached antlers.

The area around the lodge was overgrown with brambles and covered with mosses and lichens.

Bart said, "This cannot be right."

"Looks like the Overlook," Monica whispered.

"The what?" Nathan asked.

"That spooky hotel in that Stephen King novel."

"No, it does not," said Bart. "This place looks nothing like the one in the movie. And it's smaller."

"That's how the hotel looked in my imagination," Monica said quietly. "I never saw the movie."

"Stella, what is this place?" Steven demanded, his voice strident in their headsets. Deborah watched Steven as he glared at their pilot. His neck was tight, his shoulders stiff. The bold and shining surgeon who could cut people open on his operating table and sew them back up in prettier shape looked as though he might be scared.

"These are the coordinates I was given," Stella said quietly. She brought them up alongside the dock. Rain rapped harder. It ticked on the roof and against the windows and danced upon the water, making a billion pocks and bubbles on the surface. Wind gusted as the storm began to hunker down.

"Radio someone," Jackie ordered suddenly from her seat in the back.

Deborah glanced over her shoulder at Jackie. The woman had powered on her cell phone and was checking for cell service. She came up empty. Her black, inscrutable eyes narrowed to slits. Her jaw tightened. Katie started filming out the window, silent. Deborah swallowed as a pontoon nudged up against the moss-covered dock. It looked like it hadn't been used in years.

"Radio someone," Jackie demanded again, louder. "Find out what's going on. Check if this is the right place."

"I did radio the coordinates in."

"What did they say?" Jackie demanded.

Stella turned to face them all. The expression on her slender, angled face made Deborah's heart sink.

"This is the place. These are the coordinates to which West Air was contracted to fly you all."

"No, no way," Steven said. "I did not sign up for … for this." Steven waved his hand in the direction of the hulking building. "You have got to take us out of here. Fly us back. Now."

As if on cue, rain began to pour harder, and the wind bore down, sending waves lapping over the edges of the dock and the plane rocking.

"Let's just take a look, shall we?" Stella said, powering down the engine. "Whatever this is, there is no way I can fly us out of here until this weather blows through. I fly visual flight rules. And with VFR you need daylight. You need to see, or we will crash in these mountains."

"Yeah," Bart said. "She's right. Let's just check it out." He unbuckled his harness. "The actual spa could be through the trees or something, or around in the next bay. Maybe this is just a joke, or something." He didn't sound convinced.

"Maybe we've been duped," Steven said darkly.

"But why?" Monica asked.

Stella opened the pilot-side door. Wind blew in cold and wet.

One by one they alighted from the Beaver, stepping gingerly from the pontoon onto the slippery green slime that covered the dock's planks. Deborah was the last to deplane. Steven held out his hand to assist her.

Her foot touched a plank. But as she transferred weight, it slid out from under her so fast that she was flat on the dock and tumbling into the water before she could even register what happened. The cold lake stole her breath. Shock blinded her. She thrashed wildly at the brackish water, at the reeds, going under, gulping for air. A hand groped for her jacket. By her collar, she was hauled dripping out of the reeds and dragged up onto the dock. She sat on her butt, coughing and choking, terrified, her eyes filling with tears, her hair plastered to her face.

Stella bent down. "Are you okay?"

"I … I can't swim. I can't swim. I—"

"It's all right, Deborah." Stella reached for her arm. "You're out—you're safe now." She helped Deborah up to her feet with Bart's assistance.

Deborah shook like a leaf. Water poured from her clothes and squelched in her shoes. She could barely breathe from the shock and cold. She tried to take a step and gasped in pain, her left leg buckling under. "My ankle. I … I think I've hurt my ankle."

They all stared at her. All shaken. White-faced. It made Deborah feel even more frightened. Wind gusted and rain lashed at them.

"Monica and Nathan," Stella said, taking command of the situation. "Can you guys help Deborah up to the lodge? I need to secure the aircraft to the dock. Bart, maybe you could check to see if there is actually a real spa around the bay, or another building somewhere?" She reached for a rope. "Jackie, can you give me a hand and hold fast on to this strut here while I moor the Beaver to the dock?"

Jackie acquiesced. Nathan and Monica put their arms around Deborah and helped her limp carefully along the canting dock, keeping the bulk of her weight off her ankle. Deborah was petrified of going into the brackish shallows again—utterly terrified—and great big palsied shudders took hold of her body. Steven just stood there glowering at them all, as if refusing to accept his lot, as if blaming them all for bringing him here. Katie quietly filmed the whole thing. Thunder rumbled.

With the assistance of Monica and Nathan, Deborah reached solid ground. As they began up the narrow and overgrown path toward the lodge, she heard Jackie and Stella's voices rising in argument down on the dock. Jackie said something about calling for help on the radio again, and Stella cut her off angrily, then lowered her voice. Deborah glanced back over her shoulder.

Through the pelting rain she witnessed Stella pulling Jackie close, and they conversed in what appeared to be urgent tones. Jackie suddenly stilled and glanced at the plane.

"Easy, there's a step coming up here," Nathan said.

Deborah returned her focus to the ground as they limped through the rain up toward the looming lodge.
Excerpt. ©Loreth Anne White. Posted by arrangement with the publisher. All rights reserved.

Giveaway:

1 eBook of Loreth Anne White's IN THE DARK (Gifted via Amazon)
To enter Giveaway: Please complete the Rafflecopter form and post a comment to this Q:

What did you think of the excerpt spotlighted here? Leave a comment with your thoughts on the book…
Meet the Author:
Loreth Anne White is a bestselling author of thrillers, mysteries, and romantic suspense. A three-time RITA finalist, she is also the recipient of the Overall 2017 Daphne du Maurier Award, the Romantic Times Reviewers' Choice Award, the National Readers' Choice Award, and the Romantic Crown for Best Romantic Suspense and Best Book Overall. In addition, she's a Booksellers' Best finalist and a multiple CataRomance Reviewers' Choice Award winner. A former journalist who has worked in both South Africa and Canada, she now resides in the Pacific Northwest with her family. When Loreth isn't writing, you will find her skiing, biking, or hiking the trails with her dog (a.k.a. the Black Beast) or open-water swimming. She calls this work, because that's when the best ideas come.
Visit her – Social Media Links:
Website: https://www.lorethannewhite.com/
Facebook: https://www.facebook.com/Loreth.Anne.White
Twitter: https://twitter.com/Loreth
Goodreads: https://www.goodreads.com/author/show/150272.Loreth_Anne_White