Family Tree by Susan Wiggs, Annie Harlow is thousands of miles away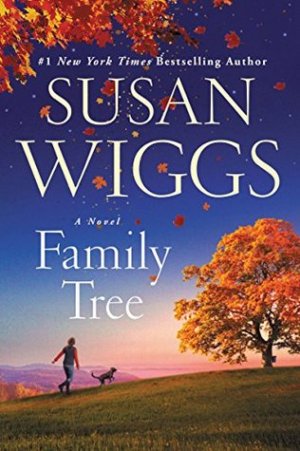 from her home of Switchback, Vermont, living in Los Angeles when her life takes a drastic turn. As creator, producer, and writer of the hit cooking show, The Key Ingredient, she collaborates with her husband Martin, who is the undisputed star of show. A frantic trip to the set to deliver good news to him–they're pregnant!–turns into a nightmare when Annie is involved in a horrendous accident, putting her into a coma for a year after sustaining a severe brain injury.
"Memories are strange things, aren't they? You can't touch them and hold them in your hands, but they have incredible power. Because I've lost so many memories, I feel as though I've lost that power."
Unbeknownst to her, a lot changes in Annie's personal life during that year and when she wakes up in Vermont, she's left with little memory of what happened to her that fateful day. She's comforted by her childhood memories and the thought of one day getting back into the kitchen, using her Gran's recipes to soothe away her worries. With the support of her divorced parents, her caring older brother and his wife and kids, Annie gains ground day by day. But seeing her high school sweetheart Fletcher Wyndham brings back a flood of emotions as well as a complication that her scattered life probably doesn't need. Although the chance to work things out might turn out to be the best thing that could have happened to them.
'The kitchen was the one place where she felt most like herself. With each dish she created, she reclaimed bits and pieces of her identity, her memories and dreams.'
If you want a story with a complicated plot rife with emotional depth and personal growth, Susan Wiggs is the author to turn to. And Family Tree fulfilled all of my expectations. Being a fan of Wiggs' work, I just knew I would find myself engrossed in our main character's struggles to pick up the pieces of her shattered life.
'Love comes in its own time, Gran used to say. You don't get to declare when or how. It's never too late to have the life you want.'
Okay, so if you've ever read anything by Susan Wiggs before, you know she doesn't do light and fluffy romance. And that is totally fine by me. As much as I love a lighthearted read, I'm also a sucker for a heartwrenching emotional journey that focuses on friendships, personal woes, family drama and that has the characters learning important life-changing lessons along the way. That, in a nutshell, explains Family Tree. Not only that, but we also had the added bonus of a reunion romance–actually, two reunions!–which I'll admit, made me very, very happy. Plus, there were absolutely delicious food references, all centered around local high quality ingredients that had me longing to get in the kitchen and bake.
I liked the way this book was formatted, with the chapters alternating here and there between Annie as a teenager in Vermont and then as an adult in the present day. It added a depth to the story, explaining the choices she made along the way and how she found herself involved with Martin on the other side of the country. I found it pretty easy to empathize with Annie, both as a teenager in the flashback passages and as an adult. I didn't always agree with her choices (poor Fletcher) and she had a tendency to be self-involved at times, but it's hard to blame someone for wanting to follow their dreams. And that was basically what Annie was trying to do all her life.
There's so much I want to discuss here but I can't, or it will give spoilers as to what happened to Annie while she was in her year-long coma. Sorry! But you can obviously tell part of what happened to her from the book synopsis, that she was betrayed in some way by her husband Martin. It goes without saying how much I did not like him when this story was over. Despise would be a good word for it. On the other hand, I fell in love with Fletcher, Annie's high school sweetheart. He also made some choices that didn't turn out so well, but at least his heart was always in the right place. And his metamorphosis over the years from the town bad boy to a judge and doting father was so satisfying to see.
Poor Annie had a lot to overcome in this story: loss, grief, deception, a stalled career, as well as her own health issues after her accident. But I think readers will be as inspired as I was to watch Annie push her way through it all to come out victorious, happy and in love when it was all said and done.
Book Info:

 Published August 9th 2016 | William Morrow |
From the #1 New York Times bestselling author comes a powerful, emotionally complex story of love, loss, the pain of the past—and the promise of the future.
Sometimes the greatest dream starts with the smallest element. A single cell, joining with another. And then dividing. And just like that, the world changes. Annie Harlow knows how lucky she is. The producer of a popular television cooking show, she loves her handsome husband and the beautiful Los Angeles home they share. And now, she's pregnant with their first child. But in an instant, her life is shattered. And when Annie awakes from a yearlong coma, she discovers that time isn't the only thing she's lost.
Grieving and wounded, Annie retreats to her old family home in Switchback, Vermont, a maple farm generations old. There, surrounded by her free-spirited brother, their divorced mother, and four young nieces and nephews, Annie slowly emerges into a world she left behind years ago: the town where she grew up, the people she knew before, the high-school boyfriend turned judge. And with the discovery of a cookbook her grandmother wrote in the distant past, Annie unearths an age-old mystery that might prove the salvation of the family farm.
Family Tree is the story of one woman's triumph over betrayal, and how she eventually comes to terms with her past. It is the story of joys unrealized and opportunities regained. Complex, clear-eyed and big-hearted, funny, sad, and wise, it is a novel to cherish and to remember.