In Fanged Love by Kylie Gilmore & Mimi Jean Pamfiloff, Prince Bozhidar, aka Boz, has come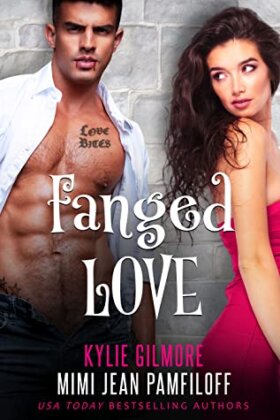 across many humans in his eight hundred years on earth. But never has he found his mate. As a devilishly handsome vampire who is used to ruling all he sees, it was quite a shock to find out that he had been forced asleep for five centuries–and that he is now living in the wine country of the United States. Boz's majordomo, Neli, has been keeping his award-winning winery afloat and protecting him from those who wish harm for centuries. But now it is time for Boz to take charge like the vampire prince he is. Until a lovely woman named Stella, his neighbor across the street, needs his help. Then he must find a way to make her his own, all while learning to navigate through a new, oftentimes confusing, world.
She shivers. "This kind of love was never in my plan."
I smile. She's seeing her way to a different kind of love with me–fanged love.
Stella wasn't aware of how dire her family's finances had become when she finished college with plans to work with her parents at their winery. Now she's on a mission. She will figure out a way to save the business, help her younger twin sisters go to the school of their dreams, and maybe Stella herself will eventually even settle down with a nice man. With her track record, though, she isn't holding her breath on the romance front. But then she meets her eccentric neighbor Boz. He talks like he's from a different century and at first dresses like it, too. The more time Stella spends with him, the more she knows their chemistry is the real deal–even if he seems like he's hiding something. Should she take a chance with the man who could help save her family's wine company? Or would there be too much to risk?
"Are you truly prepared to be naked in my bed?" he asks, his voice gruff and low, for my ears only… "Perhaps you are not ready for this *experience*."
His words are almost as sexual as the sinful tone of his voice. Supernatural gifts of seduction? Yes, please. Ruin me for other men.
Fanged Love was not your average paranormal romance. But what else would you expect from the awesome duo of Kylie Gilmore and Mimi Jean Pamfiloff? Belly laughs, swoony romance, quirkiness, and plot twists did abound in the novel MJP fans have been waiting for.
'I want to be the sort of bloodthirsty, dangerous, supremely handsome, well-endowed, and highly intelligent vampire who can make her feel loved. I want her to feel safe.'
Whether or not you've read Mimi's Librarian's Vampire Assistant series and have heard about the (formerly) fictional, well, work of fiction that Mr. Nice was obsessed with, you can still read and completely enjoy Fanged Love. It had all the comical zingers and crazy antics I crave from MJP. And we had Kylie's fun and oh-so sexy spin on things as well. The combination worked better than I had even hoped for when I heard about the duo's plans. So much so that I think it would definitely get Mr. Nice's approval.
Oh, Boz. Poor arrogant, charming, sort of clueless, sexy Boz. Can you imagine being a vampire who had been asleep for nearly five hundred years and waking up to the modern world, with all the adjustments your life would have to make? Add to that Boz was, let's say, very confident in himself and his former life. So when Stella entered the picture and brought him to his knees while he was already struggling, it threw him for a loop. I loved the way Boz immersed himself into American pop culture–with some help from his kickass major-dorko, I mean, majordomo, Neli. From figuring out what to wear, to technology, and social cues, he had a steep learning curve. Let alone figuring out what to do about Stella.
Stella really was the quintessential smart and savvy girl-next-door (as the book blurb suggests) who worked hard, cared deeply for her family, and hoped someday to find a forever love with a man who would treat her right. Boz, in all his eccentric glory, was not on that list. At first. It was a whole lot of fun to watch Stella figure out the truth about Boz being an eight hundred year old vampire and all of the ups and downs it caused in her (and her family's) life. Obviously things worked out for our love birds but it was *so* not an easy climb to get there! Something I appreciate from Pamfiloff's and Gilmore's stories.
Be ready to laugh yourself silly and fall under Boz's spell in Fanged Love. A fish–er, vampire out of water story about fated love and new beginnings, readers will be sure to enjoy every single moment spent between the pages.

Book Info:

Publication: Published October 1st 2020 | Paper & Silver, Inc. |
From USA Today bestselling authors, Mimi Jean Pamfiloff and Kylie Gilmore, comes a hilarious, sexy, Vampire Romance about the girl next door and an ancient prince who's lost when it comes to modern women.
WANTED: MODERN WOMAN WHO APPRECIATES TRADITIONAL COURTSHIP WITH FANGS.
Greetings. My name is Prince Bozhidar, and I am an eight-hundred-year-old vampire.
Correction.
I am an eight-hundred-year-old, virile, confident, and very sexy vampire—so I'm told. I have wealth, looks, and everything an immortal man could ever want.
Well, except love. But no matter. I am not a one-neck sort of man.
Yet the virginal woman across the road sets my senses afire. And she needs my help with her family's failing winery. My own is quite successful.
My honor demands I help this enchanting female, and when I do, my heart begins beating anew. She is my mate. Strangely, my gifts of seduction do not seem to work on her.
Perhaps I need to fit in with modern dating customs to win this modern woman.
And then there's the small matter that she doesn't believe in vampires.
There is no fighting destiny, sweet Stella. You will be mine.