Secrets of Forever by Marie Ferrarella: This was a short book but was filled with neighborly love,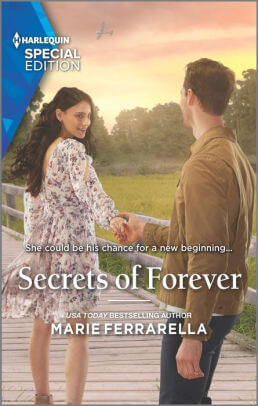 small-town gossip, new beginnings, and a happy ever after. It was fast-paced and grabbed my attention from the beginning. The book's storyline was unique, realistic, and interesting. It was hard not to fall in love with the characters even with the stubborn Miss Joan!
Neil Eastwood, a successful New York cardiac surgeon, felt like he needed a change in his medical practice. He wanted to make more of a difference in his patient's lives. When Dr. Dan Davenport, a friend he went to school with, called requesting Neil's assistance with a patient, he was happy to help. Traveling to a small town in Texas to consult the beloved town matriarch was a welcome change for Neil. Falling for a woman and the small town of Forever was not in his plans. But can he convince the town's beloved Miss Joan to have the necessary procedures?
The entire town of Forever was worried about the health of Miss Joan and Ellie Montenegro was more than willing to help by flying to pick up Dan's friend. Knowing how hard it will be to convince Miss Joan to do the tests, Ellie offers her assistance to Neil and Dan. When she learns Miss Joan has an estranged sister, she is convinced that finding her sister will convince Miss Joan to have the needed heart procedures. Ellie knows there's no future for her and Neil because he will be leaving the small town of Forever soon, but she can't help falling in love with him.
I've not read any other books by this author, but I really enjoyed reading this one. I loved the kindhearted people of the small town Forever and the love they had for their Miss Joan. They were all willing to step up, show their love and support, and help convince her of how important she was to the town. I found it humorous that in the end, Miss Joan took all the credit for Ellie and Neil's romance by saying without her they would not have met. I liked the epilogue but would have liked to have more of a peek into Neil and Ellie's future. Maybe in the next book, we will see them again.

Book Info:

Publication: October 1st 2020 | Harlequin Special Edition | Forever, Texas Book # 22
She could be his chance for a new beginning…
A temporary assignment could have permanent side effects
Ellie Montenegro and her secondhand plane just delivered an angel of mercy to her remote Texas town. Forever's warmhearted inhabitants are counting on New York cardiac surgeon Neil Eastwood to save their beloved matriarch. But it's the heart of the sexy, outspoken pilot Neil hopes to steal as he joins Ellie on a secret family search. Is the runway long enough for a relationship to take off?