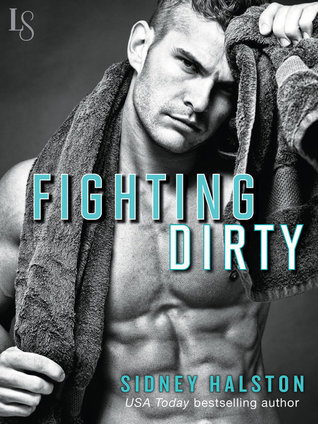 Fighting Dirty by Sidney Halston: Enzo is the last man Jamie Lynn would ever date, and she's shown it by rejecting all his offers for a year ever since he moved to her small Florida town from Brazil. But once she discovers there's more to Enzo than the expensive suits, glasses, and banking job, she might finally offer a date of her own.
Enzo has wanted her, the multi hair colored pixie with tats and attitude, ever since he saw her, and now that he has his date, and once he gets to know her beyond the front she shows, he doesn't want to let go. If only JL could see past their differences. And if only he wasn't omitting the truth.
But as the passion flames brighter, they learn to trust and accept one another, and themselves.
"I can't get you out of my senses and I will not be able to sleep or work, or basically do anything, until I get to taste you. Completely. Thoroughly. Selfishly."
I quite enjoyed Fighting Dirty, but it wasn't an MMA book. Yes, he did it, but as a hobby where I only saw him in action a few times throughout the story. His actual job concerning banking and property is the real factor in the story. But I do like how MMA loosened him up, and JL, too, definitely brought out a more relaxed and fun side to the uptight Enzo.
Aside from that though, I like both Enzo and JL as characters. I liked being with them for the ride, although JL pushed back a bit too often especially with the monetary difference. The reason behind not stressed enough for how much conflict it caused. However, they both grew as a couple and as people throughout the story. I rooted for their happiness, and I liked the longer break they had to figure out their lives and what they need from and can give to one another. And I definitely appreciated how sexy this story was, Halston does hot well.
Fifth in the Worth the Fight series by Sidney Halston, Fighting Dirty can be read as a standalone, but I know I'm definitely going to try out her others. If you love an MMA touch and a passionately in love hero I recommend Fighting Dirty.
Book Info:

 January 5, 2016 | Loveswept | Worth the Fight #5
If you love the MMA romances of Vi Kreeland and Kendall Ryan, Sidney Halston's Worth the Fight series will knock your socks off! In Fighting Dirty, a geek-chic cage fighter proves that appearances can be deceiving . . . and oh-so-tempting.
With his preppy clothes and horn-rimmed glasses, Enzo Silva is the last dude anyone expects to find in a mixed martial arts gym. A wealthy Brazilian banker who never had to fight for anything, Enzo's stuck in the amateur circuit—but he burns to make the pros. Maybe that explains the heat he feels whenever he's around Jamie Lynn Calhoun. The pint-size, magenta-haired bartender with the Texas drawl is everything he's not . . . and everything he craves.
Tough as nails and independent to a fault, Jamie Lynn—JL to her friends—works hard to pay her bills and keep life simple. Enzo is doing his best to complicate that. Even though she likes to bust his balls, he's got some kind of a nerdy-hot vibe that makes JL wonder if she might finally be able to let her guard down. It might do the boy some good to spend some time in her world, where blood, sweat, and victory are as sweet as the first taste of real love.