In Fighting For You by Sydney Landon, Ella works at Danvers International. In present time, she has come a long way from who she was when she started, thanks in part to the girl friends she's made and her confidence in herself. Close to 30 though, Ella has never had a real relationship with a man. She is also still a virgin… She plans to change both of those things.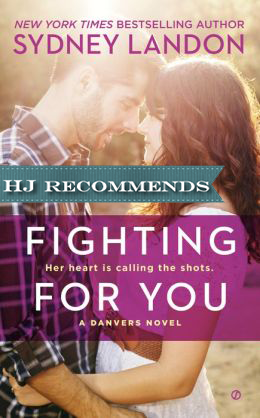 Ella is intensley attracted to Declan, who also works at Danvers. Despite the aloofness Declan exhibits most of the time, soemthing about Ella seems to draw him out. When Ella goes so far as to invite Declan over for dinner, he immediately cools the friendship down…as attractive as Ella is to him, he knows he can never be the man for her. He's not the man for anyone.
Ella is not sure why Declan has cooled off towards her, because she's pretty sure he's as attracted to her as she is to him. Ella sets her sights on Declan and how she can make him really see her as a woman who wants him. Declan can not help but fall under her spell, even as he tells himself that whatever they have can go no where. As Ella makes her way deeper into his heart, Declan finds himself dreaming of and wanting a life he's never pictured for himself. With the past, present and future colliding, Declan will have to decide what he really wants, who he really wants to be, and if he really wants to be with Ella.
I have not read any of the other books in this series, loved this one, and can definitely assure you that it can be read as a stand alone.
I loved Declan and Ella! Both of them were just so great and realistic! I loved the maturity of their characters and that they were open and honest with each other…there were no secrets. This is what really makes me like a couple…they don't play games or hide things from each other to protect the other. Sydney writes their romantic journey flawlessly, giving us enough background on both of them so that we can understand where they are coming from…and the barriers they might face to where they are going to.
Ella comes from a strict, religious upbringing that she is breaking free from and making her own way. Although a virgin, she is certainly no prude, she knows what she wants and she is willing to go after it! Ella is a strong, independent and funny character in Fighting For You. She might be inexperienced, but she's not going to let that stop her! My impression of Ella is that she is secure in who she is and she does not hide where she came from even when she worries that is what's keeping Declan away from her. Ella deals with what comes her way and goes with the flow as much as she can, but she is also honest about her feelings. She's not faking anything with Declan.
Declan has his ghosts that haunt him. He's never been the type of man to want to settle down, his encounters with women never turning into relationships, which is how he likes it. Ella brings out the protective instinct in him and he wants to keep her safe. Especially from other men! Even though Declan thinks she deserves someone far better than him, he can't stand the thought of her being with anyone else. As they spent more and more time together and Declan's feelings grow to be more than sexual, he must fight his inner demons before he loses Ella forever. Can he be the man that Ella sees and knows he is?
Syndney gives us a truly great romance in Fighting For You…with a little bit of everything you could want in a romance. She will have you tearing up on one page, then laughing yourself silly a few pages over. Sydney gives us a couple that are easy to like, who you really hope can find a way to be together.
I'd highly recommend Fighting For You to any romance reader!
Book Info:

HJ Recommends
Published October 15th 2013 by Penguin Group | Series: A Danvers Novel #4
Ella Webber has spent years uncomfortable around the opposite sex…
But as soon as she meets handsome Declan Stone, she is smitten. Quickly they become friends, finding frequent reasons to see each other around the office, and Ella longs for even more. So-with a little help from her friends-Ella resorts to performing a little seduction. One that Declan will never be able to resist.
Burdened by emotional baggage from his time in the army, Declan refuses to believe he's the right man for sweet Ella. Even if she makes him long for normal things, like marriage and family….But in his attempts to close off his heart from her love, could he have underestimated Ella's powers of persuasion?