Finding My Girl by Melissa Foster isn't a typical novella; instead, it's a companion booklet to the novel Love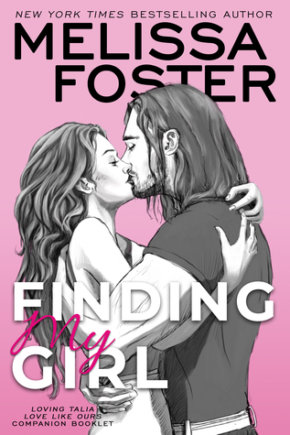 Like Ours. It's basically a love letter to Talia, with drawings throughout that depict things they have gone through and the way Derek views his love of Talia. It also includes some drawings that Derek's father had drawn for his wife, before he developed Alzheimer's.
Having read Love Like Ours, I enjoyed the companion booklet. I liked getting to view their relationship through Derek's eyes, both through words and through the drawings. Some of the drawings do include nudity and depict sexual scenes, so if that offends you, you may want to stary away from this booklet.
If you haven't, I recommend reading Love Like Ours before reading Finding My Girl. The booklet can be read prior, but things are referenced in it that happened in the book. I also think reading the book first will give you a better understanding of Talia and Derek's relationship.
This was my first time reading a companion booklet, and I liked it. I thought it depicted their relationship wonderfully and it was true to events that took place in the actual book. The drawings are extremely well done and depict the couple's relationship perfectly. If you're looking for a different and interesting take on Love Like Ours, I recommend Finding My Girl.
Book Info:

Publication: December 5, 2018 | Montlake Romance | Sugar Lake #3.5
If this is your first Melissa Foster book, please note that Finding My Girl / Loving Talia is not a novel, a novella, or even a typical short story. It is a companion booklet to the full-length contemporary romance novel, Love Like Ours, featuring Talia Dalton and Derek Grant. In Love Like Ours, one of the many ways Derek shows his love for Talia is through cute and loving sketches depicting their lives as they came together. Finding My Girl / Loving Talia is a collection of those images, along with a couple of images that Jonah, Derek's father, had drawn for his wife, Eva. Within these pages you will also find heartfelt messages from Derek to Talia that are not found in the original novel. As a bonus, I have included the first chapter of Love Like Ours in the back of the booklet.