First Kiss at Christmas by Lee Tobin McClain is the fifth book in her Off Season series. I love the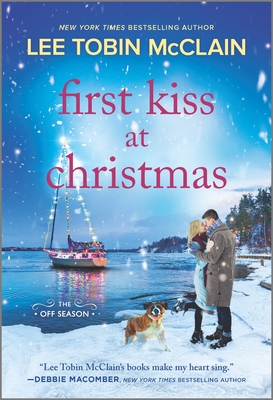 premise of this series.
Kayla Harris is twenty-five years old and has never been kissed. Not because she isn't pretty or a wonderful person. It's been her own personal hangup since an incident in middle school. Middle school boys have been known to do stupid things but this one meant no real harm. Kayla has made a New Year's resolution to have her first kiss by the end of the year. It's getting to be Christmas season so time is running out. Now the preschool teacher has met a new student, Jax and his uncle and guardian, Tony DiNunzio. There's something different about Tony. Little four-year-old Jax's situation melts Kayla's heart. Maybe fate has brought the three of them together.
Tony DiNunzio has accepted a three month stay in Victory Cottage in Pleasant Shores, far enough away from the sad memories in Filmore. His nephew Jax, who recently lost his mother to a violent act in Filmore, hopefully will benefit from the change as much as Tony hopes to. Jax is very distraught over the loss of his mother, Tony's sister Stella. Stella had a drug problem and there's not much known about the details of her shooting death. No one knows how Jax ended up on Tony's doorstep the night of the shooting. Tony is determined to do all he can to help Jax adjust and know he is loved. Their first meeting with Jax's new preschool teacher Kayla Harris is not the best. Kayla's patience and care struck Tony from their first meeting though. Tony is attracted to Kayla but he's not for her. His head is not in a good place so his heart needs to back off.
A house, in this book Victory Cottage, is offered for a few months to a person in need of a break and some help. This person will do volunteer work during their stay in return. This time is very helpful for healing and ends up benefiting all. Tony and Jax need time to heal from Stella's death. The program and the generosity of the people in Pleasant Shores make a world of difference for Tony and Jax. But it is Kayla who provides the best healing and both uncle and nephew fall for her. This is a very heartwarming, emotional tale filled with lots of Christmas spirit.
Book Info:

Publication: October 26th 2021 | HQN Books | The Off Season #5
"Lee Tobin McClain's books make my heart sing."—Debbie Macomber, #1 New York Time bestselling author
Don't miss this brand-new Christmas romance by New York Times bestselling author Lee Tobin McClain!
At 25 years old, preschool teacher Kayla Harris is embarrassed to admit she's never been kissed. When Tony DiNunzio and his grieving nephew show up in her classroom, she can't help being drawn to both of them. If only her insecurities-and his guilt over his sister's death-would stop standing in their way.
As Christmas approaches, can these three come together to form a family… not just for the holidays, but forever?
The Off Season
Book 1: Cottage at the Beach
Book 2: Reunion at the Shore
Book 3: Christmas on the Coast
Book 4: Home to the Harbor