In Wrapped up in a Beau by Angelita Gill, staying home over Christmas isn't something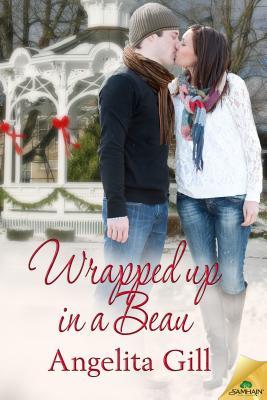 Mason Renclair normally does, but this year he finds himself cancelling his holiday plans once he meets Greta Marcum. She intrigues him like no woman ever has, and he's determined to spend time with her, even if he has to be sneaky to get her attention. And if he can convince her to stay longer – all the better – except that might prove harder than he thinks.
I always enjoy the sister's friend trope, and Ms. Gill has delivered a story that was riveting and fast-paced from start to finish, of a heroine that proves quite a challenge for the hero. Especially in the moment they meet, as Mason seems like the type of man used to getting what he wants.
"This is a first," he began, breaking the silence, his voice echoing off the high ceiling.
She turned her head. "What is? You following a woman, instead of a woman following you?"
Both characters provided lots of fun moments with their teasing banter, and I immensely enjoyed them both. Mason is tenacious in his pursuit of Greta, and his sneakiness in spending time with her had me smiling. He also has a very close relationship with his sister. A sister that helps move his relationship with Greta along, so she'll maybe give him a chance. While Greta, she's very independent. Always travelling and never spending too much time in one place, for fear of getting too close to anyone. And yet, at the same time, she craves the connection with Mason and his family to drive away her loneliness. Then there was the budding friendship between Greta and Mason's grandfather. She was the only one that managed to make him completely happy.
"You're lucky, Mason, that you have what you have. Your whole family is here. No matter where you go, you have some place to come back to. It's something to be cherished."
His smile was wan. "So is freedom."
She rolled her eyes and sighed. "It's easy for someone like you to take what you have for granted. I can tell you've never been without."
Smoking hot sex scenes light up the pages, and for the first time, Mason makes Greta realize that staying in one place could be good for her. Because he cherishes any moment he gets to spend with her, even when she's driving him crazy with her defensiveness towards him wanting to get to know her.
Overall, I really enjoyed this story, and I loved the way it ended with Mason's sister manipulating him to make him realize that he and Greta should be together. Because Greta needed someone like Mason, someone to show her that love is worth fighting for. I would recommend this story, if you enjoy Christmas holiday reads with endearing characters that will charm you with their dialogue.
Book Info:

Publication: November 24th, 2015 | Samhain Publishing |
"Sometimes the best-laid plan is a change of plan."
For the past five years, Mason Renclair has been anywhere but home for Christmas. He can't wait to escape Swan's Crossing, New York, for more exotic climes. Nothing short of divine intervention will keep him from jumping on that plane. That is, until divine intervention appears in the form of Greta Marcum, his sister's friend who just flew in from London. Suddenly he's got a whole new itinerary in mind-at home.
Greta has traveled all over the world, but she's looking forward to spending Christmas in a quiet, homey American town. Getting naughty with one of the locals isn't part of her plan, but Mason's infectious laugh and irresistible kisses melt the ice right off her Italian boots.
What starts out as a holiday fling has them checking their list twice for what they really want for Christmas.
"Warning: Contains hot love scenes between a man who cherishes his freedom, and a woman who would give anything to have what he takes for granted-a real home."