In Flirting with Fifty by Jane Porter, Math professor Paige Newsome has settled in nicely at Orange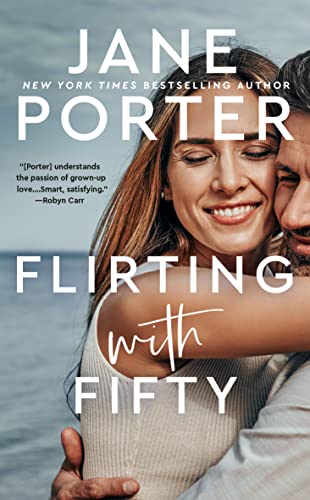 University and loves being back in California. She gets to see her best friend, Victorian English professor, Elizabeth, frequently and is close enough to visit her mother and brother. Sure, Paige's three grown daughters might not be close by but at least they're settled. She hopes. After her marriage ended about eight years ago, she worried the girls would think she was foolish to move from North Carolina back to her home state but it was the right decision. Now if Paige can figure out if her new assignment, team teaching with the handsome Australian scientist who once made a very lasting impression on her, Dr. Jack King, will work out just as well.
"No one is worrying about your reputation, Dr. Newsome."
"Well, certainly not you, Dr. King."
"Do you ever have any fun? Or are you always so incredibly uptight?"
Her mouth opened and closed. Part of her was offended, and another part of her thought, Yes, I resemble that. Annoyance won out. "You do you, and I'll do me."
"I'd like to do you–"
Paige isn't used to having a partner teaching alongside her–or feeling the kind of attraction she has with Jack. And Jack isn't typically attuned to a woman the way he is with Paige. As much as he enjoys watching her teach and handle the college students with ease and grace, he wants to get to know her outside of class. For someone who's been on the go, traveling from one country to another for years and even filming a television show, Jack finds himself very happy staying in sunny California. Then there's the upcoming trip to Tanzania. He knows Paige is a bit nervous about it. But Jack has a feeling that once he shows her the beauty of Africa, she'll be ready for more adventures with him in the future. Maybe even of the romantic sort.
'Having Paige close, he felt a peace that usually escaped him. It was almost as if she was a reward for a life well lived. She was a blessing…a gift.'
Flirting with Fifty was Jane Porter's insightful ode to romance on the more mature side, with the main characters in or nearing their fifties. Sweet, playful, sensual, and a little angsty, this was a most satisfying start to her Modern Love series.
'For the first time in forever, she wanted to believe that maybe, just maybe, fairy tales came true. Was she too old to have a happy ending of her own?'
To me, Jane Porter always seems to write extremely emotional romance with lots of heat and heart. And while Paige and Jack's story wasn't heavy on the love scenes where it was a very, very slow burn, they had such wonderful chemistry–and a connection from thirty years prior–that I didn't mind in the least. This will likely be a story that hits home for those of us nearing the big 5-0. (Myself included) With some soul searching, examining their lives and deciding if they were truly happy with where they were, Jack and Paige asked themselves the questions that most of us have asked ourselves at some point as well.
I enjoyed the way Porter wove in not only something that happened between Paige and Jack in Paris many years ago but also had them become coworkers. It added a little bit more tension between them–even though things were already awkward. But having to "team teach" their college students meant Jack and Paige had to spend a fair amount of time together.
It was so fun to watch Jack tease Paige, getting her to loosen up a bit while she was so grounded that it made him rethink his stance on long-term relationships and love. Paige and Jack were quite the opposites attract couple on paper–the Indiana Jones-style professor with his own cable show and the beautiful California-chic mathematician. But in actuality, Jack and Paige were a terrific match who had (almost) everyone cheering them on.
QOTD: Have you read any romances where the hero *and* the heroine were 40+ years old? If so, did you enjoy it?
Book Info:

Publication: Published May 24th 2022 | Berkley Books | Modern Love #1
A sexy and sparkling later-in-life contemporary romance about a woman who leaps out of her comfort zone and takes a chance on love by New York Times bestselling author Jane Porter.
Paige Newsom is finally at a place in her life where she's comfortable. She loves her job as a college professor in Southern California, lives close enough to her mother to visit her regularly, and has three daughters who are flourishing in their own careers. Paige has no plans to upend her life again after her divorce eight years ago, but she's about to embark on a new adventure: co-teaching a course that includes a three-week international field study.
Paige can think of a dozen reasons why she shouldn't go, one being a dazzling Australian biologist who will be teaching alongside her. Professor Jack King is charismatic, a world traveler, and more like Indiana Jones than Indiana Jones, all of which unsettles Paige, who prides herself on being immune to any man's charms. As the two co-professors lead the rigorous program together, first on campus, then in beautiful Tanzania, Paige's biggest challenge will be working closely with Jack while resisting the undeniable chemistry she feels when she's with him.