Booked on a Feeling by Jayci Lee: Lizzy Chung is a self confessed overachiever, she has had a life plan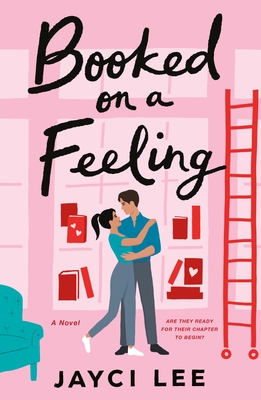 from the time she can remember and for the most part she has made very good time in keeping with her goals of becoming a successful lawyer at a prestigious firm and making her parents proud. The only thing she has yet to check of is making partner, which is just within her grasp is only she could have foreseen the massive set back coming her way in the form of one very embarrassing panic attack causing her to black out at a pivotal moment in her career! Now Lizzy is head to Weldon for a much needed break to rest, recover and recharge from the fatigue and burn out and where better than the cute small town in Cali that she used to spend summer in with her childhood bestie Jack Park.
Three weeks with the girl of his dreams is exactly what Jack has always wanted and just maybe this time he can actually tell Lizzy how he feels about her! Or not… after all she is a high powered LA lawyer and he is just a small town bookkeeper for his families brewery, what could she possibly see in him, right? So for the mean time he can always just enjoy getting to hang out with his old bestie and if that means helping her revamp the old book store then that is exactly what he is doing to do. But soon Jack begins to realise that the more time that he spends with Lizzy the harder it is to hide his feelings for her…
Oh my sweet book loving heart just ate up this book and the entire plot involving bring new life to an old book store while finding love between the shelves! It was pretty hard not to get invested in Lizzy and Jacks story as they reconnected and found a new layer to their friendship. Also who just doesn't love a cute friends to lovers romcom?
These two were just adorable, there was non of that awkward tension between them and I just loved that their relationship grew naturally. I will say that I found myself gravitating towards Jack more and more as I read the book, there was just something so earnest about him and that he did so much for his family but still felt like he wasn't fully living his life to the best that he could. As for Lizzy, I think her realness and relatability made her such a great character. She so desperately wanted to please her parents that she forgot to actually live her own life and just enjoy the small things. I think this is part of what made Lizzy and Jack work so well they were both that breath of fresh air that they both so definitely needed and the book store helped give them this chance to do something just because and not to please someone else or keep to a goal chart.
Booked On A Feeling is a sweet friends to lovers, boy falls first romcom that is full of real life feeling, emotions and family dynamics that makes this book so incredibly relatable and easy to read. Also I just loved the book store back drop for a love story, definitely worth adding to your next tbr!
Book Info:

Publication: July 26, 2022 | St. Martin's Griffin | A Sweet Mess #3
Lizzy "Overachiever" Chung, Esq. has her life mapped out neatly:
* Become a lawyer. Check.
* Join a prestigious law firm. Check.
* Make partner. In progress.
If all goes to plan, she will check off that last box in a couple years, make her parents proud, and live a successful, fulfilled life in L.A. What was not in her plans was passing out from a panic attack during a pivotal moment in her career. A few deep breaths and a four hour drive later, Lizzy is in Weldon for three weeks to shed the burnout and figure out what went wrong. And what better place to recharge than the small California town where she spent her childhood summers with her best friend, Jack Park.
Jack Park didn't expect to see Lizzy back in Weldon, but now he's got three weeks to spend with the girl of his dreams. Except she doesn't know of his decades-long crush on her–and he intends to keep it that way. She's a high-powered attorney who lives in L.A. and he's a bookkeeper at his family's brewery who never left his hometown. He can't risk their friendship on a long shot. Can he? When Lizzy decides that the local bookstore needs a little revamp, of course, Jack is going to help her bring it back to life. But the more time they spend together, the harder it becomes to ignore there might be more than just friendship among the dusty shelves and books…
Sometimes the path to the rest of your life has been in front of you all along.