In Forever Mine (Opposites Attract #2) by Erin Nicholas, having only recently learnt he has a daughter, Doctor Alex Nolan believes he doesn't have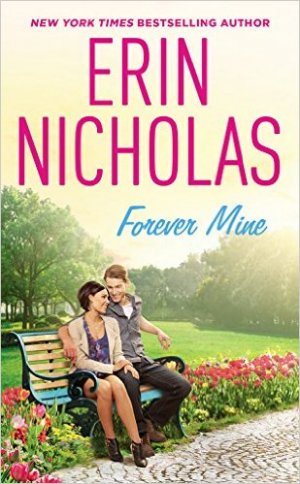 time for a relationship. But when he meets Maya Goodwin, they instantly click and he finds it difficult to stay away from her. Can Maya convince Alex to take a chance on their attraction?
"Don't forget that the good guy always gets the girl," Alex added.
She laughed lightly. "They usually do, yeah. But those relationships aren't easy."
"The whole saving-the-world-versus-being-home-at-night-for-dinner thing?" Alex asked.
"Yep." She looked at him closely. "Kind of like doctors. The long hours and dedication it takes can make relationships hard, I would guess."
He looked mildly amused. "You're comparing me to a superhero."
The first book of this series was wonderful the way it introduced best friends — Keira, Maya and Sophie — and I couldn't wait to read more about these three women and the heroes they fall for. The way this story started with Alex having his prayers answered in the form of Maya had me laughing at the way Ms. Nicholas described the scene with such vivid imagery. Certainly, Maya will be able to help Alex connect better with his daughter, considering her outfit and the fact that she can handle herself in a sparring situation. However, it was the moment that Maya and Alex met where things really became interesting.
As for the dialogue, I couldn't get enough of it. Maya is a major temptation to Alex; the one woman he knows he needs to stay away from, but there's no denying their intense chemistry. Moreover, Maya is strong, brave and I liked her positive attitude to everything she been through in her life. Losing the career she loved couldn't have been easy, and I could understand why she was so motivated to get back to it, but what she was doing now was just as rewarding. Then there's the relationship she has with her friends. They're extremely close and I enjoyed how Sophie and Keira encouraged her relationship with Alex, because they wanted her to be happy.
"You feeling super?" he asked, with a sexy smile.
"I think you're in the running for Man of Steel," she told him, breathlessly.
He flexed his hips, and she moaned. "I gotta say, I like you in kick-ass mode, but I'm loving this warm, boneless, soft side of you too." He thrust again.
"I gotta say," she said, mimicking him, "if you want to see more of this side of me, I'm all for it."
While Alex, he was a wonderful hero. Only having found out he has a daughter, I could sympathize with him for trying to do what's right for everyone in his life – his ex, his daughter and Maya. He has some major decisions to make and I liked that he made the right choices for all those in his life in the end, because there was no way he would have ever been happy without Maya in his life. But what I liked most about the hero is that he finally found the one person he could talk to about his and his daughter's condition. His mother was a bit too overprotective, and I could understand why he didn't want his daughter to feel smothered if he was to be too overprotective.
Overall, Ms. Nicholas has totally impressed me with this story, which made me laugh because of this couple's teasing banter; banter which upped the sexual tension between them until their intense chemistry spilled over onto the pages explosively and was filled with plenty of heat. The way this story ended was perfect, as Maya was willing to fight for their relationship, even if it meant slightly embarrassing herself to get what she wanted. Certainly, pajamas are the new night-time outfit when you're going to visit someone. However, it was the epilogue that wrapped this story up nicely, because of this couple's words to each other at the very end and Alex no longer being afraid to let people know that a particular illness shouldn't hold those people that have it back from living life. I would recommend Forever Mine by Erin Nicholas, if you enjoy the opposites attract trope.

Book Info:

Publication: March 28th, 2017 | Forever | Opposites Attract #2
Maya Goodwin doesn't believe in holding back. Ever. As a cop, she never hesitated to throw herself into harm's way to save someone. Even after an injury on the job forces her to retire, she's not afraid to keep risking it all to get the life she wants. With a new career teaching martial arts to kids already underway, she's looking forward to the future – and taking a chance on the unbelievably hot Dr. Alex Nolan.
Maya – daring and spontaneous – is the exact opposite of what Alex always thought he wanted. But when a nine-year-old daughter he never knew existed shows up on his doorstep, Maya is the one who helps them hold it together. With love on the line, will the guy who's always played it safe be willing to take the biggest risk of all?