In Becoming a Legend (The Kavanaghs #3) by Sarah Robinson, Kane Kavanagh has worked hard with his MMA training, and nothing is going to stop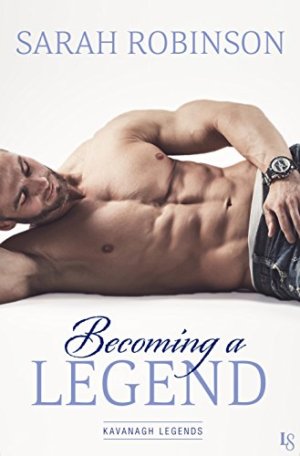 him from winning the championship. Flirting with his future sister-in-law's best friend, Nora Hannigan is fun, but he can't afford the distraction she offers, not with the championship coming up. But the closer they get, the harder Kane finds it to resist her. However, when someone learns Nora's secret and tries to blackmail him, what will Kane do? Will he choose love or his career?
"Are you saying you want me to teach you how to be in a relationship?"
"I'll be a very good student," he said, wiggling his brows at her with a mischievous grin.
"You're so freaking cute." Nora leaned forward and kissed him right on the tip of his nose.
"Hey," Kane protested, drawing his lips into a pout. "I'm not cute. I'm f****** sexy as sin, and that's final."
She laughed again and shook her head. "Okay, Mr. Sexy-as-Sin, we'll learn about this dating stuff together, think you can handle that?"
Even though this book can easily be read as a stand-alone, I'd definitely recommend reading the first two books of this series, because Ms. Robinson is a wonderful author that leaves readers wanting more of the Kavanaghs. They're a tight-knit family that loves to tease each other, where the men of the family are HOT and the characters really grow throughout each story. In the first book, there was Rory with his career-ending injury that resorted to drugs and alcohol to cope until he met Clare. Then in the second book was Kane's twin, Kieran, whom found love with Fiona after being released from prison. And now it's Kane's turn to fall in love with Nora; a wonderful woman with a big heart that would do anything for the people she loves, even her mother who is a selfish witch.
Right from the beginning, this book had me hooked, as it's palpable that the fight Kane is in has something to do with the championship. Will he win? What choices will he have to make to keep those he loves safe? Will he sacrifice his career for love? The fight and the pressure Kane faces in his quest to win sets the fast-pace of the story, and made this story a real page turner for me, because I wanted to know what choice Kane would make and why he had to make it. What secret is Nora keeping that someone would blackmail him with?
The dialogue was intense due to the main characters back stories, especially Nora's. Her mother is a real piece of work, and doesn't deserve such a good and generous daughter like the heroine. Indeed, I felt sorry for Nora when it came to the woman and definitely thought the heroine needed to learn the word NO when it came to her mom. No matter how hard it would have been for her. She's also hard-working when it comes to her career and finishing her degree, and I liked how good she was with kids.
"Where are they?" she asked.
"My front pocket."
Nora's hazel eyes widened as she glanced down. "Your pants pocket?"
"They're the only pockets I have."
Nora shook her head and crossed her arms over her breasts. "I'm not putting my hand in your pants, Kane."
While Kane, he's confident, cocky and I liked how focused he was in winning the championship fight. Nora is a distraction he doesn't need but definitely finds hard to stay away from, and I could understand why he was so conflicted when it came to choosing between his career and Nora. His family has worked hard to get him to where he is in his career, and he can't let them down. Yet, at the same time, he realizes the advice one of his brothers gives him is sound. Nora has helped him by supporting his career choice and cheering for him every step of the way, although they seem like enemies at first with their bickering. Bickering and teasing banter that makes for good sexual tension and strong chemistry, which eventually spills over onto the pages in really hot sex scenes.
Overall, Ms. Robinson has penned another astonishing read for her Kavanagh Legends series, which has me looking forward to more books encompassing the other Kavanagh brothers in Quinn and Jimmy. The way this story ended had me smiling, because of the choice Kane made during the fight. It had me cheering for him to win, especially after Nora was willing to sacrifice everything she'd worked so hard for to make sure he did. It proves love can conquer all, no matter how difficult things are on the journey to happy ever after. I would recommend Becoming a Legend by Sarah Robinson, if you enjoy the friends to lovers trope, or enjoy reading books by authors Sawyer Bennett, Brenda Rothert or Lexi Ryan.
Book Info:

Publication: December 13th, 2016 | Loveswept | Kavanagh Legends #3
Kane Kavanagh has always had one goal: being the best mixed martial arts fighter alive. With the MMA National Championships in Las Vegas fast approaching, the man they call "Killer" has no intention of letting anyone or anything get in his way. Somehow, though, a feisty opponent has slipped beneath his guard—and stolen his heart. Fiery and passionate, Nora Hannigan is harder to pin down than any rival Kane has faced in the ring. And she isn't afraid to tell Kane that she wants nothing to do with him.
With her best friend about to marry into the Kavanagh family, Nora has been resisting Kane's shameless attempts at flirting for months. But after their undeniable chemistry finally takes over, leading to the hottest night of Nora's life, she's running scared. There's a lot about her life Kane doesn't know, and she won't be responsible for ending his career. Now Kane's out to prove that he's ready for a commitment by winning her heart—and he's never lost a fight.