Forever Wild by Allyson Charles is the third book in her Forever Friends series. She has well-developed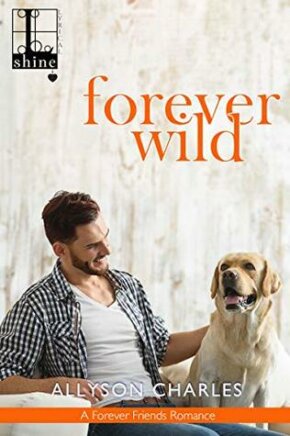 characters in Lissa and Dax. I really liked Dax, Lissa not as much. She is a little too free-spirited for me. The author writes a very believable winding path to a HEA for Lissa and Dax and I am glad they found happiness together.
Annelise "Lissa" Ansel is an artist who stows away in a Forever Friends' van Dax Cannon has driven from Pineville, Michigan to New Orleans to pick up some rescue dogs. Lissa is in trouble and needs to get away from New Orleans pronto. Too bad Lissa's trouble follows her to Pineville. Dax decides Lissa needs a "keeper" so they spend lots of time together. Lissa is afraid that her "trouble" will get Dax hurt. Little does she know that there are some special dogs who can take care of the thugs who are after Lissa quite well. Lissa has grown up with her wandering artist parents and has no sense of "home." Something about Pineville tugs at Lissa to abandon her wandering ways. Maybe it's her attraction to and growing love for Dax that is making such a big difference. Dax sure hopes Lissa decides to stay. But will she?
I really enjoyed reading about the main characters from the earlier books. One of the best parts of the story is getting to meet William, a bluetick hound with lots of energy to spare. He is one of the rescue dogs Dax picked up in New Orleans. I love William's spunk and sloppy kisses. This is a very fun series!
Book Info:

Publication: June 11th 2019 | Lyrical Shine | Forever Friends #3
Wild life is about to take on a whole new meaning . . .
Dax Cannon never says no to a challenge. But when he discovers a sexy stowaway in the back of his truck, he realizes Annelise Ansel might be more than he bargained for.
An artist, Lissa claims she's leaving New Orleans for a fresh start in Michigan–which just happens to be where he's headed with the pack of rescue dogs he's delivering to the sanctuary he works for. But when three thugs threaten to take lovely Lissa off his hands, he realizes she's in need of a sanctuary, too.
Once Lissa is riding shotgun with her long, lean protector, she's wondering if fate might have something better in store for her than a life in hiding. But when her hijinks threaten to take down the best man she's ever had the pleasure to run away with, Lissa realizes it's time to face her demons. Now it's up to the two of them to fight through the danger to discover the life—and love—waiting on the other
side . . .