In Sisters of Summer's End (Summer Resort #2) by Lori Foster, After a rocky start when she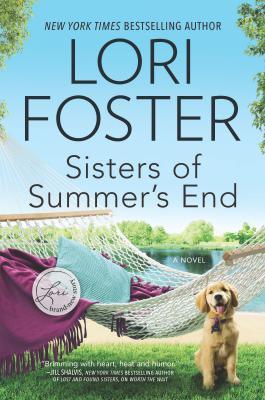 became a single mom almost six years ago, Joy Lee has found an inner strength she never knew she had. But she gladly left behind her well-off family who disowned her to make a life for herself and her son Jack, who is her entire world. Getting a job as recreation director at Cooper's Charm RV Resort was the best thing Joy ever did. The employees there are like family to her–but unlike her own relatives, her friends always have her best interests in mind. As her friendship with camp store owner Maris Kennedy grows and becomes more like a sisterhood bond, Joy gets a jolt when Royce Nakirk, the new drive-in owner, heats up the chilly autumn air with his good looks. Unsure if she's willing to let down her guard and let the charming guy into her life, let alone her heart, she will have to do some major soul searching first.
'Joy stared after them, seeing more than just her son with Royce. She saw a future, she saw a family. She saw…love.'
Maris has learned to rely solely on herself and her drive to succeed after a rough start in life. She's never leaned on a friend, and most especially not a man. She's had laser-like focus on making her store, Summer's End, thrive for several years, leaving no time for a social life. But she can't deny that since becoming better friends with Joy, it's nice to have someone to share her thoughts with who won't judge her. And then there's Daron Hardy, who also works at the resort. A handsome man who has a bit of a reputation with the ladies. Maris doesn't want to admit her attraction to him, even though Joy is telling her to go for it. After years of denying those sparks, why give in now? But when Daron makes his feelings for her clear, Maris will have to figure out if she's ready to take that scary leap into romance.
'She closed the space between them, putting her mouth to his.
Oh, hell, yeah. Daron nearly groaned aloud. After wanting her for so long, a single kiss equaled a massive accomplishment.'
Two heartwarming romances set in one gorgeous location, all in one book. How could it not be a great time, right? Filled with Lori Foster's realistic characters, snappy dialogue, and just the right amount of heat, Sisters of Summer's End is a must-read.
"Maybe we should start our own little club where we drink coffee, eat cookies and praise each other."
Oddly enough, that sounded like a very good time. "Count me in."
I've been a Lori Foster fan for years. And while I adore her alpha heroes, with their big egos and even bigger hearts, I have to say that I'm loving this Summer Resort series and its eclectic mix of characters. The feel of Sisters of Summer's End, as well as its predecessor, Cooper's Charm, is a mix of romance and women's fiction. Which works well for the unique setting–an RV park!– and the family atmosphere the employees have there.
Both books in the series have been about the heroes and heroines finding their path in life, being open to love, and about the friendships that formed between them all who work in the resort. This story in particular had the bonus of watching Joy and Maris form a relationship that brought them as close as sisters would be. And I loved the strength they drew from their bond, learning how to lean a bit on someone other than themselves, and to know they could trust in each other and show emotions they normally wouldn't let anyone else see.
Single mom Joy and her adorable son Jack were a dynamic duo–a partnership she never thought she would allow a man to infiltrate. But Joy was smitten with Royce right away. On her own she was a force to be reckoned with: a super organized, loyal, strong and strong-willed woman who was a fantastic mom. And Royce was a kindhearted man who was healing from a recent devastating loss in his life. How he handled things leading up to that loss, to me, proved how solid of a guy Royce truly was. So how could I not root for him and Joy to work past their fears and form a relationship that everyone around them could see would be amazing?
Now Maris and Daron, boy, their romance was one entertaining ride! Just as sweet and tender as Joy & Royce's was, it was also fraught with sexual tension that had been building for a few years. I enjoyed getting to know them a bit in Cooper's Charm, but it was fun taking that further here. Maris's background was rather sad and explained her incredible work ethic and fiestiness, but overall the tone was light and sexy, with a passion-filled bantering that kept me chuckling. There were a couple of times Maris let her own ideas about Daron's lifestyle cloud her vision, which was frustrating. Although I have to say Daron was a much more well-adjusted, grounded man than at first glance so I got where she was coming from. I think fans will love their dynamic and will cheer them on from the start.
Lori Foster was on point with this second novel in her Summer Resort series that's all about true love, the strength of friendship, complicated families–a rescued puppy!–and personal growth. You'll definitely want to add this to your TBR pile (or TBR mountain, if you're like me) right away.
Book Info:

Publication: Published June 11th 2019 | HQN | Summer Resort #2
As the summer ends, friendship begins…When single mom Joy Lee abandoned her old life to take a job at a lakeside resort, she found something that her family's wealth and influence could never buy: peace of mind. Not easy to come by for the once-burned divorce who keeps everyone at a distance. But when her new friend, Maris, dares her to take a chance with the drive-in's charismatic new owner, everything changes for Joy and her young son. A difficult childhood has left Maris Kennedy with definite priorities. Her job running Summer's End, the camp store and cafe, comes first. Always. Nothing could ever make her risk that hard-won security–especially not her free-spirited colleague. But the more she encourages Joy to open herself up to new experiences, the more Maris begins to wonder what she, too, might be missing. Learning how to trust will bring Joy and Maris together.
And soon they form a friendship that leaves them as close as sisters–and open to love where they least expect it…in Summer's End.