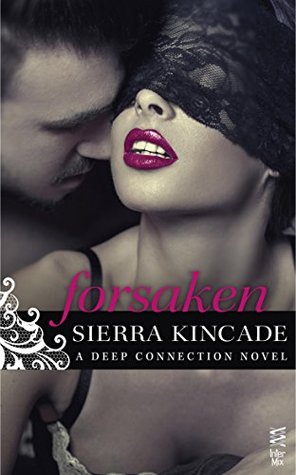 Forsaken by Sierra Kincade: Marsella was determined to hold her family together and make her father proud. She was meticulous and ran her father's restaurant with command and a focus on detail. It all fell apart when the police arrived and her father told her to run with his journal. Now, it's two years later and Marsella is living under a different name and still on the run. She tries to keep to herself as much as possible and avoid attracting attention.
Jake has been looking for Marsella since he helped her to escape. He doesn't know what to make of her and her potential involvement in her father's crimes. He's determined to get the journal from Marsella and his focus is on getting to her first.
Marsella has settled into a small town. She's okay with the life she has, but she also knows that she may need to run at any moment. She lives in fear of being found. When Jake shows up and seems interested in her, she's understandably cautious. After being so badly burned, she doesn't know who she can trust.
"We got off to a bad start," he said. "Let's try again."
He shook her hand gently, his eyes moving to her lips.
"Marsella Talent," she told him, a little warily. "But you can call me Cassie."
"Jake Taylor," he told her.
Marsella and Jake have a very up-and-down relationship. They are clearly attracted to each other, but both are uneasy and reluctant to trust the other. While Jake's motives might not be clear, he is very protective of Marsella and determined to earn her trust. When things begin to heat up, they have to decide if they can trust in the connection they feel to each other.
"You should be," he said. "It really hurt."
She smiled a little. "Says the man who has willingly applied needles to roughly a quarter of his body."
"Uh-uh," he said. "Last time we went down this road I lost my pants, my truck, and my dignity."
Forsaken has suspense, drama, and surprises. Sierra Kincade builds the tension and anticipation as Marsella and Jake get closer while danger is closing in. Ms. Kincade includes interesting connections that pull the characters and story together. Fans of Stephanie Tyler and Lisa Desrochers will enjoy Forsaken.

Book Info:

 Expected publication: October 18th 2016 | InterMix | Deep Connection #1
The author of the "funny, sweet, suspenseful, and smoking hot" (Beth Kery) Body Works series is back with a dangerously seductive new trilogy…
His job is to find her, not to fall for her…
Marsella Talent has been on the run for two years, ever since her father thrust a ledger into her hands and told her to run from the police swarming their family restaurant. Now, with the cops and her father's men desperate to get their hands on the book, she knows she can never go home.
Jake never thought he'd see Marsella again, not after he helped her escape the night of the sting operation targeting her father, August Talent. So when he stumbles upon a mysterious woman named Cassie, the spitting image of Marsella, he knows he has to gain her trust to finally make up for the mistake he made years ago.
Only the closer he gets to her, the more irresistible he finds her. And soon he realizes he'll have to make a choice—prove his loyalty by getting back the ledger, or save the woman that he's growing to love…
MATURE AUDIENCE
Includes a sneak peak of the second book in the trilogy, Forgotten.