In One Night with Gael (Rival Brothers #2) by Maya Blake , being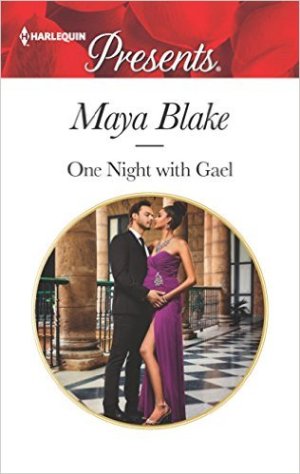 approached by Gael Aguilar would be every woman's fantasy, but for Goldie Beckett it could be considered a nightmare. The man runs hot and cold. One minute he wants her, the next he doesn't. But when he leaves her money after spending an incredible night together, Goldie has had enough. Confronting him in a very public setting and then never seeing him again seems like the perfect way to teach him a lesson, except that plan soon goes out the window when she discovers she's pregnant.
"We've established that I'm not about to force myself on you, Miss Beckett, so perhaps you could drop the terrified lamb routine?"
"I'm not a lamb," she snapped. "And this isn't a routine."
"Are you saying you're always this suspicious of everyone?"
"I'm suspicious of men who come out of nowhere and accost me in dark alleys – and, yes, men who are possibly wolves dressed in lambs' clothing."
Gael Aguilar has worked hard to get where he is in life, and isn't about to let anyone get in his way. That's why he has two rules when it comes to relationships – one being that he never dates a woman for longer than six weeks, and the other being to never give a woman a second chance. However, he finds Goldie being an exception to his rules, and when he discovers she's pregnant, he'll do anything to make sure he's there for his child. Even if he has to go as far as to blackmailing Goldie to get what he wants.
What an intense and emotionally charged story Ms. Blake has penned, encompassing two people that don't trust easily. From start to finish, this book was captivating, fast-paced and a story I could not get enough of. Gael has been told by those in his life that are supposed to love him that he was a mistake; words that have affected him deeply and no way will he allow any child of his to be made to feel the same way.
As for the dialogue, it was well-written and I was affected by the characters emotions and reactions, as they deal with each other the best they can. Gael deserved every bit of anger Goldie tosses his way, especially since what he did to earn her wrath was pretty insulting. However, there were some light-hearted moments where both the main characters let their guards down. Especially when Goldie is teasing him about his attitude – his 'his way or the highway' one; or talking about how cantankerous he can be at times.
About to tell her he hadn't taken a vacation in a decade and wasn't about to take one now, Gael paused. "Why not? I've been told I'm 'grumpy and insufferable' lately. So maybe a timeout is just what I need."
That miniscule smile reappeared. "Did whoever dared to make that observation get away with their lives?"
Goldie was a really enjoyable character, and I liked her from the start. She's strong, brave and I liked how determined she is to make a go in her career as an actress, because she doesn't want her life to turn out like her mother's; a life without knowing love and settling for less than she deserves. But most of all, I liked how feisty the heroine was, and that she was willing to go head-to-head with Gael. For sure, she provides quite a challenge for the hero. While the hero, he's hard-working, confident, and I liked how tenacious he is in going after what he wants. Certainly, he doesn't handle his attraction to Goldie well due to his reasons for not wanting a relationship. Yet, he's honorable and I liked how determined he was to make things right with Goldie as well as his family because confronting his past could only make his future that much brighter. No way was he going to make the same mistakes his father made in not owning up to his responsibilities as a dad.
Overall, Ms. Blake has penned a wonderful novel with hot sex scenes that illustrated this couple's intense chemistry perfectly. Goldie doesn't have much experience when it comes to men and sex, yet there's no denying the sparks that fly between these two any time they're together. The way this story ended had me smiling, because Gael had some major groveling to do to win Goldie back, especially after what she heard him say. Would he be able to convince Goldie to forgive him, especially with her mother running interference for her? Furthermore, I liked how close he ended up becoming with his brother. They had such a tight bond, which didn't seem possible all that long ago. I would recommend One Night with Gael, if you enjoy the surprise pregnancy trope or a story where the heroine provides quite a challenge for the hero.
Book Info:

Publication: October 18th, 2016 | Harlequin  Presents | Rival Brothers #2
Rules for dating Gael Aguilar
1. Six-week time limit
2. No second chances
When aspiring actress Goldie Beckett storms into Gael's board meeting to return the ten thousand dollars he left on her nightstand, she's sure she's triggered rule 2. But in just a few short weeks, the shocking news of her pregnancy ensures that she's definitely broken rule 1!
Born illegitimate and branded a mistake, Gael will never allow the same fate to befall his child. Obliterating all his own rules, Gael now must get Goldie to agree to the role of a lifetime as his wife!