Framed and Hung by Alexis Fleming: This is a little book whose title is full of double-entendres. The heroine is a decorator, so of course she frames and "hangs" items, but the hero of the book is quite the guy, so he is, of course, "hung" in the vernacular. And I'm still wondering if the placement of the 'g' in "hung" on the cover was inadvertent or not! A novella at under 100 pages, it is largely lighthearted, and a tad silly at times, so a pleasant book ideal for summer time reading.
Jake Lord is relaxing in the pool at the family hotel wh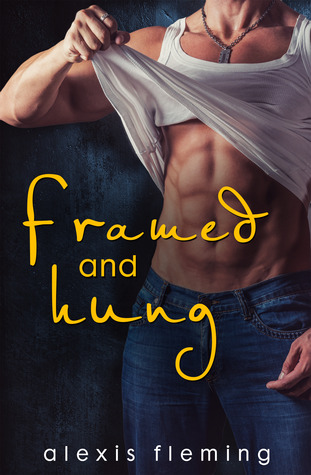 ich is undergoing renovations. He has moved in to protect the property while the painters and decorators are at work. Unexpectedly, a woman appears who he first thinks is a teenager, but who is actually Zoe Chandler, an old high school classmate, who is with his mother and another woman. Jake is greatly embarrassed due to his undressed state, especially since Zoe takes advantage and teases him, which makes it difficult to carry on a conversation with his mother. He finds out that his mother has hired Zoe and her friend Rachel do to the painting and decorating of the inn, and that Zoe is also going to be staying at the inn while she's doing the work. This is going to be a real problem, because even from brief reacquaintance, Jack realizes that Zoe turns him on big-time.
He closed his mouth and gulped. The little shorts hugged her hips and gave him a peek-a-boo glimpse of the lower curve of her ass. Show-white skin that he wanted to lick. To sink his teeth into.
Zoe is a woman who been married and divorced, and is not interested in doing a relationship again any time soon. She has major trust issues, and wants to be the one who calls the shots. However, she is not adverse to engaging in a hot affair, especially with Jake Lord, who she had a crush on in high school. Jake, on the other hand, also recalls that he had a crush on her, but she was much younger, and he didn't think it was right to be attracted to her in high school. Now that they are both adults, however, he's very interested, but he wants to go for long-haul, and at thirty-five, he is ready for a relationship. Jake doesn't know how to convince her to go for relationship instead of a one-night stand, and goes to his brothers for advice. His brother Simon tells him:
"Romance!" He lifted his head and grinned at Jake. "That's the answer…" Jake just stared at him, eyebrows raised. "No, I'm serious," Simon said. "You're living together at the inn. Mum tells me the kitchen is fully functional now. Cook her a romantic meal with wine and candles."
While a nice thought, it's actually going to take more than wine and candles to get these two together! There's a frisky ghost in residence, "Mum" and her cadre of elderly blue-haired hellions, a hateful competitor to Jake's bid for city council, and Zoe's own sassy mouth to get past before a happily ever after can take place.
It would be wonderful if all this came together seamlessly, but for me, there were hiccups along the way. I personally found Zoe too forceful and aggressive in her physical pursuit of Jake. The subplot about the ghost was fun, but petered out. Jake, on the other hand, was sweet and very forgiving, probably a good thing when having a relationship with the often volatile Zoe. Zoe's friend and business partner Rachael is very steady, but not staid, and a good foil for Zoe; I'd like to see Rachael get a story next!
Lighthearted and fast-moving, "Framed and Hung" is a book designed to be read on a lazy summer day. Set in Alice Spring, Australia, the setting seems similar, and at the same time a little different from what North Americans are used too. Interestingly enough, although it's a novella, it has enough characters and plot to read like a full novel. It's not perfect, but there are elements any romance reader would enjoy. And as a warning, keep in mind that no matter your gender, you wouldn't ever want to be on the bad side of someone like Zoe Chandler!
Book Info:

Published June 1st 2014 by Escape Publishing
Job satisfaction has never been this good…
If there's one thing Zoe Chandler, Historical Restorations expert, knows, it's that naked bankers aren't supposed to look like Greek gods. Honestly, it's enough to make any woman pause. Luckily, Zoe is more of a take-charge, rush-in-where-angels-fear-to-tread kind of girl, and she definitely has fantasies of rushing towards Jake. But Jake is a man who is all about control, and there's no way he's going to let Zoe run this show.
Nude paintings, blackmail, and mind-numbing sexual frustration…will either of them survive this project?