From Friend to Fake Fianceby Jules Bennett: Jenna LeBlanc is in Bora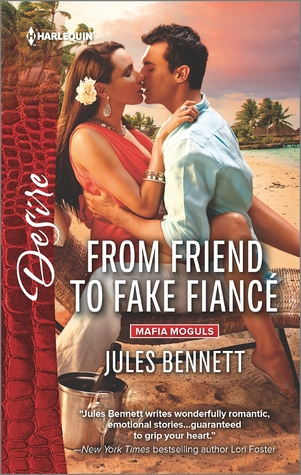 Bora to attend her sisters wedding. The problem? Her cheating ex-boyfriend is the best man and will be there as well. He's determined to get her back, but she wants nothing to do with him. So she recruits the help of her best friend, Mac O'Shea, to join her and pretend that they're dating. Jenna's mother and sister are exciting that the two of them were together and Jenna felt terrible for lying to them. When Martin doesn't give up his pursuit of Jenna, Mac announces to everyone that he and Jenna are engaged.
Jenna, in some aspects, is a confident woman, but in other aspects she's not. She has body image issues, and I liked that Mac tried to convince her that she was beautiful just the way she was.
"You're made like women should be, Jen. All those curves."
He palmed her back as he leaned in closer. "You make a man think of things he shouldn't."
A shiver racked her body. "You're delusional."
"No, I'm honest."
Mac wants more than a pretend relationship with Jenna, but he fears that he can't let her into his family's world. While his brother was trying to make their businesses more legit, they still engaged in illegal things from time to time. He didn't want her to know exactly what lengths his family had gone to in order to take care of problems.
Rumors of the O'Sheas' infamous ways of conducting "business" were strong enough that his words rang true. Mac's father, Patrick, had passed away less than a year ago and the man wasn't known for his gentle hand or kind mannerisms."
This is book two of the series, and while it can be read as a stand alone, I would recommend reading them in order. I have not read the first book, and at times I felt a little lost. There were references to Braden, Mac's brother, trying to clean up the businesses, but no mention as to how he was going about that. There also wasn't very much background given about the family itself, and I can't help but wonder if that was covered in the first book.
If you enjoy friends to lovers stories, this is one you may want to consider trying.
Book Info:

Publication: May 10, 2016 | Harlequin Desire | Mafia Moguls #2
Pretend to be Jenna LeBlanc's lover? Heck, Mac O'Shea has dreamed about being the real thing for years. Yes, they share a deep attraction, but they've agreed to "just be friends." After all, Jenna wants forever, and Mac's questionable family business means he's not the settling down type. He would never bring an innocent like Jenna into his dark world. But the mafia playboy can't resist the chance to touch her, to taste her—even if it's only a ruse for her sister's tropical wedding. It's just a week…in paradise…with a woman he desperately wants. Nothing will change between them. Right?