Lust is the Thorn by Jen McLaughlin: After losing his best friend years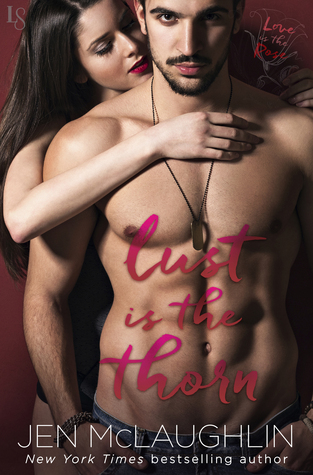 ago, Thorn turned his life around. He entered the seminary and is waiting for his call before taking his vows as a priest. He's determined to help other kids make better choices so they don't end up like he did with the alcohol, drugs, and partying. He also resolved to always protect Rose, whether she wanted it or not. Rose also had a difficult childhood and she's trying to work her way out.
While they've kept in touch over the years, they also somewhat kept their distance. Everything changes when Thorn realizes that Rose has hit rock bottom. She is fiercely independent and really doesn't have anyone to turn to for help, so Thorn steps in and takes over. The last thing Rose wants is to spend time with him, since he's the one man she wants but can't have.
"But that shouldn't have happened, for more reasons than one."
She eyed my clerical collar. "I know the obvious, but what's the other reason?"
Spending so much time together is both a blessing and a curse. He feels too much when it comes to Rose and she tempts him to walk away from the path that saved him. She's been in love and lust with him for years. Both struggle with their overwhelming attraction and their determination for Thorn to stay on his current path.
"It could have been worse."
"How?" she asked, her voice muffled in my arm. "How could it have possibly been worse?"
I froze. "You…I…He…" Another laugh came out. "I don't know. I was just trying to make you feel better. You weren't supposed to ask me for details."
Lust is the Thorn is an intriguing friends to lovers, forbidden romance. Jen McLaughlin delivers angst while building the tension and anticipation as the characters battle their deepest desires. Ms. McLaughlin created a story with an emotional punch and a great secondary character in Father John. Fans of Elle Kennedy and Marquita Valentine will enjoy Lust is the Thorn.
Book Info:

Publication: April 19th 2016 | Loveswept |
From the bestselling author of Bad Romance comes an edgy novel about a reformed bad boy training to be a priest and the fallen angel who makes him think twice about giving up earthly pleasures.
Growing up hard and fast on the mean streets of Chicago, Thorn McKinney didn't have a prayer—until tragedy inspired him to join the seminary. Now the time has come to take his vows, and yet he's haunted by the woman he can't leave behind: his best friend's little sister. Despite Thorn's promises that he'd keep her safe, she's going through hell. And now he finds himself torn between duty and desire, entranced by the seductive pull of her trusting eyes, innocent heart, and sinfully sweet curves.
Trying to let Thorn pursue his calling, Rose Gallagher has been hiding some things: namely her abusive boyfriend and her job as a stripper. But when she hits rock bottom, Thorn is there for her—and now there's no denying the raw temptation that draws them together in their darkest moments. Rose may have found salvation in his strong arms, but she knows that Thorn must choose his own path: in the church, or in the warm embrace of a woman's love.