Furious Rush by S.C. Stephens: Mackenzie just wants to race. She loves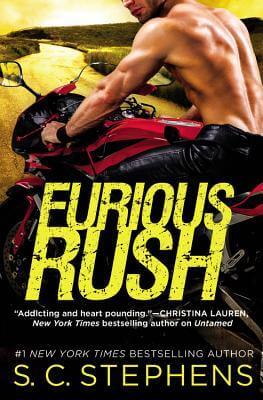 the speed and freedom of her street bike, but nothing is like the rush of getting out on the track with her beloved Ducati. She's determined to make her dad and team owner proud of her even though she's not the son he always dreamed of. Kenzie lives a very routine life and she always follows the rules. With her rookie season in the professional circuit about to begin, it's that much more important to keep her eye on the prize. She's grown up in the shadow of her father's legendary career and everyone is counting on her to live up to the mounting expectations.
Hayden is the sexy wild card just hired by the rival team. He's got a penchant for breaking the rules and living life on the edge. He's new to the professional motorcycle circuit, but he's a talented and driven rider who promises to be a formidable challenge. They don't quite get off on the right foot when they meet for the first, or second, time.
"Good to know, sweetheart."
"You're not welcome," I snipped. "And my name is Mackenzie. Mackenzie Cox, daughter of Jordan Cox, and racer for Cox Racing. Not 'babe,' not 'darling,' not 'sweetheart,' and definitely not 'princess.'" I stressed the word like a hissing snake.
There is an immediate attraction between them from the moment they lock eyes. Kenzie has never experienced anything quite like it, but she has no time to pursue the attraction even if there wasn't the threat of immediate termination for consorting with a rival racer. They strike sparks off each other and that fuels their highly competitive drives.
When Hayden suggests a highly unusual arrangement, she immediately declines. But with the pressure on and that connection to Hayden, she's forced to reconsider. They push and challenge each other and slowly get to learn the person behind the racer.
"I really wish you'd stop doing that," I told him.
"Doing what?" he said with a smile.
"Getting inside my brain without permission," I answered with a frown. "It's really not fair, since I can't step inside your head."
Furious Rush is a sexy, fast paced, forbidden romance. S.C. Stephens provided the heat, drama, and angst she's known for. Ms. Stephens created an intriguing world with colorful characters who had some strong personalities. Furious Rush felt like it could be the beginning of a new series since there are a number of questions that remain unanswered. For those who have read the Thoughtless series, Kenzie reminded me a little of Kiera and how frustrating she could be. Fans of Katie Ashley and M. Leighton will enjoy Furious Rush.
Book Info:
Publication: August 23rd 2016 | Forever |
Too fast, too furious-and way too hot to handle . . .
Mackenzie Cox has a lot to prove. Daughter of a racing legend, she is eager to show the world that she has inherited her father's talent in the male-dominated sport of professional motorcycle racing. The last thing Kenzie needs is to be antagonized by her rival team's newest rider, Hayden Hayes. Plucked from the world of illegal street racing, Hayden immediately gets under Kenzie's skin. His insinuations that Kenzie is a spoiled princess who was handed her career fuels her desire to win, and much to her surprise, Kenzie soon learns she performs better when she's racing against Hayden.
As Kenzie and Hayden push each other on the track, the electric energy between them off the track shifts into an intense–and strictly forbidden–attraction. The only rule between their two ultra-competitive teams is zero contact. Kenzie always does her best to play by the rules, but when her team slips into a financial crisis, she has no choice but to turn to Hayden for help. The tension simmers during their secret, late-night rendezvous, but Kenzie has too much to lose to give in to her desires. Especially when she begins to doubt that Hayden has completely left his street life behind…