Game On by Joanne Rock: Can you ever go home again? To the memories, the family dysfunction and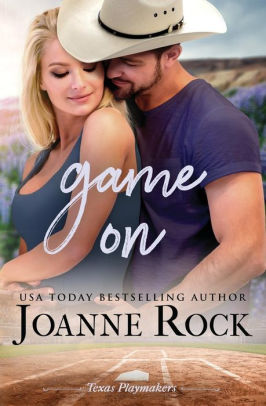 of course the small townness? What do you think?
Keely Harper was actually very happy that some people took off and left the small town she was raised in. She might not have been born here but her roots were here now and leaving wasn't an option so when her former boyfriend came back to town she wasn't really sure how to handle that craziness.
Nate Ramsey didn't go home, not really. His family was kind of a mess and he had no reason to go back to a place that held so many memories and the lady who put them there. However he couldn't say no to his Grandpa. He was going home to help him, but when helping him puts him in direct dealings with the woman he had been in love with? Well he wasn't really sure what he was going to do.
Keely and Nate had a lot of history and to be honest it wasn't all good, but it was real and it was hot. Even five years later they hadn't cooled down. However was that enough? Had they grown up to find each other or to find out there was no each other?
Ms. Rock has written and interesting book two in this growing series. The book can be read as a standalone though as I had no idea it was a series until the end. There is a HEA for the main folks and we are left waiting for the next book to see what happens to the rest. I'm a big fan of Ms. Rock's style of writing but this one focused more on the characters without delving too terribly deep. It is a fairly straight forward plot throughout and only one "minor" twist towards the end. If you are a fan of most of the Tule works you will enjoy this book.
Book Info:
Publication: Published August 8th 2019 | Tule Publishing |

He's home to recover …and rekindle a romance with his first love
After a hitting streak propels him onto a major league roster, Nate Ramsey lands on the injured list. The one bright spot in a frustrating summer is returning home to Last Stand, Texas – until he's tasked with confronting Keely Harper, an old flame whose business is running roughshod over his grandfather's farm. Nate accepted it when she ended things five years ago, but he won't overlook a slight to the rest of the Ramseys. What game is she playing?
Keely has always carried the weight of responsibility for her dysfunctional family, so she can't regret the way she ended things with Nate. Cutting him loose to pursue his dreams was the kindest thing she could have done for a man with talent to take him far beyond Last Stand. Except now he's back, and the fireworks between them haven't faded a bit. If she gives into the temptation of a kiss, will she be able to let him go again once his injury heals and baseball wants him back?