Truly Yours (Mason & Sophie #2) by Kennedy Fox: Sophie is a talented musician and loves her job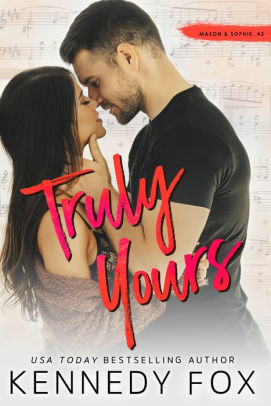 in the symphony. She's sassy, independent, and really close to her two sisters. She's hoping to one day find the love that her sister Lennon has found, if only Mason wasn't so stubborn.
Mason has put all of his focus and determination to finally working as a forensic investigator. It's the job he wants, even though it means working fairly closely with his father who is the DA. He's sexy, stubborn, protective, and a great friend. He's not a player, but he's also not interested in a relationship.
Mason and Sophie have had a sort of friendship over the last few years since his best friend and her sister are in love. There was always something more between them, but Mason deliberately kept Sophie in the friend zone. He's still very protective of her and he definitely steps in when Sophie is in trouble. The feelings are there, but it seems as though timing is never on their side.
She looks up at me and blinks. "I know you do, and that's why I can't just jump back into our life the way it was before. Things aren't the same. We can't just continue where it left off."
I inhale a sharp breath and swallow down my heart that's lodged in my throat. "We're stronger together, Sophie." I grab her hand and cup my palms around it. "We can take things slow, but you don't have to go through this alone."
It's clear to everyone that Mason and Sophie are meant to be. Both have their own baggage and issues to work through before they can pursue the relationship that seems just beyond their reach. Mason is patient and supportive yet very protective. They find a way to get closer even as they are tested in other ways.
"Love the view, but I gotta go," I say, admiring him one last time.
"You can look any time you want." He shoots me a wink.
"Would it kill you to wear a shirt once in a while?" I tease, knowing damn well I don't mind.
"Would it kill you not to wear a shirt once in a while? Then we can be twinsies." He waggles his brows, and I snort and roll my eyes at his pathetic joke.
Truly Yours is a slow burn with plenty of ups and downs, drama, heartbreak, friendship, family, and simmering heat. Truly Yours is the second book for Mason and Sophie and the duet is meant to be read in order. Kennedy Fox balanced an emotional and difficult story with tension, anticipation, healing, banter, and love. Kennedy Fox continued to build on the tight-knit group of three sisters and three best friends in this series. Fans of Meghan Quinn and K.A. Linde will enjoy Truly Yours.
Book Info:

Publication: Published September 7th 2019 | Independently published | Roommate Duet #4
I knew within moments of meeting Mason Holt that he would change my life forever.
I just didn't realize how much.
As my world spirals out of control, he continues to stay by my side, protecting and taking care of me. Being just friends is all he's been able to offer, that is until both of our lives are threatened. Now that our relationship is blossoming into something more, I can't be what he needs even if I wished I could.
Bad timing strikes again.
When I think we can finally be together, someone threatens to tear us apart. I'm not the same girl Mason met three years ago, but I'm determined to fight for what I've always wanted—him.
**This is book 2 in the Mason & Sophie duet and must be read after Truly Mine. Recommended for ages 18+**