The Orchid Throne by Jeffe Kennedy is the start of an exciting fantasy romance trilogy that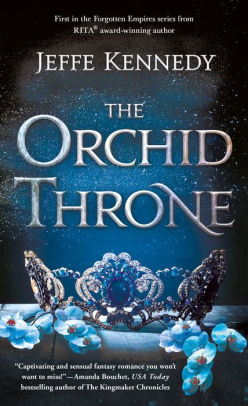 introduces a royal couple destined to fight for the survival of their peoples against a tyrant bent on their destruction.
The discovery of vurgstun, a rock with explosive properties mined deep in the volcanoes of Vurgmun, started the chain of events leading to the ascension of Anure Robho, a man whose greed expanded to encompass all the lands who encountered his ruthless ambitions. Naming himself Emperor, he cut a swath of destruction across many lands, except for one – Calanthe. Under the stewardship of Queen Euthelia the island has escaped so far unscathed, but only because she is betrothed to the Emperor. She's been able to put off any actual wedding for years, but it's only a matter of time before she will be forced into marriage.
When rumors of a rebellion and a man they call The Slave King arrive on the shores of Calanthe, Lia is prepared for his eventual arrival though not what he expects her to do for him.He's been appearing in her dreams, an omen of things to come. Her concerns are for her people, not the rest of the empire. But Conri, heir of Oriel, captured and enslaved by the Emperor and made to work years in the vurgstun mines, hasn't made it this far in his quest for revenge to be thwarted by a petite woman in the paradise kingdom. A prophesy passed on to him by a wizard portends that he will 'Claim the hand that wears the Abiding Ring' – and that ring, the orchid ring, rests on Lia's fingers. Will the prophesy hold true, and will Lia and Conri take the first steps to thwarting the Emperor's reign?
Fans of the author's Twelve Kingdoms series will be delighted with this new series start! It's not connected to the earlier series, but brand new in characters and worldbuilding including some interesting magic systems. Calanthe is full of magic and as Queen, Lia has a sense of the well being of all the living things on the island, including the health of the island itself. The Emperor has decreed that magic is not real and persecuted wizards so when Conri shows up on her island with his own personal wizard Ambrose she wants to keep Ambrose with her at any cost.
Conri isn't particularly keen on tying himself to Lia, but so far the prophesy has been right on other counts. The Emperor has demanded that Lia come for their wedding and so she must carefully weigh her choices – certainly Conri, a man she can admit she is quite attracted to despite his sometimes thuggish manner appears to be the better choice.
There are several secondary characters who play important roles as the story progresses, and Ambrose provides some delightful comic relief. The banter between Conri and Lia is also quite engaging, and they do share some intimate scenes later in the story. As the first in a trilogy, Conri and Lia's story is not complete but they are together at the end of this part and there is no cliffhanger ending. I can't wait to continue the series! I highly recommend this for lovers of fantasy romance who like intricate but not overly complicated worldbuilding, strong characters, and exciting action packed scenes to go along with a sexy love story.
Book Info:

Publication: Sep 24, 2019 | St Martin's Press | Forgotten Empires #1
Welcome to the world of Forgotten Empires from award winning author Jeffe Kennedy that begins with The Orchid Throne.
A PRISONER OF FATE
As Queen of the island kingdom of Calanthe, Euthalia will do anything to keep her people free—and her secrets safe—from the mad tyrant who rules the mainland. Guided by a magic ring of her father's, Lia plays the political game with the cronies the emperor sends to her island. In her heart, she knows that it's up to her to save herself from her fate as the emperor's bride. But in her dreams, she sees a man, one with the power to build a better world—a man whose spirit is as strong, and whose passion is as fierce as her own…
A PRINCE AMONG MEN
Conrí, former Crown Prince of Oriel, has built an army to overthrow the emperor. But he needs the fabled Abiding Ring to succeed. The ring that Euthalia holds so dear to her heart. When the two banished rulers meet face to face, neither can deny the flames of rebellion that flicker in their eyes—nor the fires of desire that draw them together. But in this broken world of shattered kingdoms, can they ever really trust each other? Can their fiery alliance defeat the shadows of evil that threaten to engulf their hearts and souls?