In Garnet Flats (The Edens #3) by Devney Perry, Dr. Talia Eden will admit she's a workaholic. As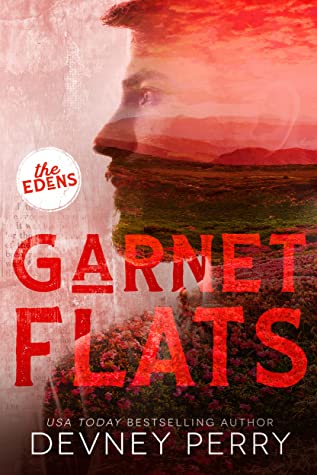 a resident at the local hospital in her hometown of Quincy, Montana, her career is the one thing that keeps her past–and the thoughts of her former love, Foster Madden–at bay. Well, that and her beloved horse, Neptune. That is, until the man who broke her heart into tiny pieces shows up in Quincy. He states he's here to stay, and Talia isn't having it. However, Foster starts off saying all the right things. He's apologetic. The heartbreak and pain is clear in his eyes. But she isn't sure she can trust a word the UFC champ says. Believing in him, their all-encompassing love, and the word of her best friend Vivienne, was what got her heart and spirit smashed before. Although what Foster says makes sense when Talia looks back at their time together with a more critical eye. But is it enough to make her give him another chance?
"Did I lose you?"
"You lost the woman I was."
"And the woman you are now?"
I wished I had an answer. I didn't.
Foster Madden is a man with a plan. And that is to win back the heart of the woman he lost seven years ago: Talia Eden. The only woman he's ever loved romantically. He's thankful that things have changed drastically since the day he was forced to break her heart. Not only is Foster now the middleweight world champion, but he has control over his life in ways he didn't when he was with Talia. The first time he steps foot in Quincy, he knows this is home. And seeing Dr. Talia Eden in her element at the local hospital makes Foster so proud he could shout it to the world. But winning her over will be the fight of his life. It's a good thing he's never backed down from a challenge before. Because Foster knows he and Talia are meant to be together for the rest of their lives–and if he has to grovel, apologize, and explain himself a million times over, it will be worth it.
"I waited a long time for you, love. I'll wait as long as you need. You are mine."
A sexy second chance romance that will be sure to get a reaction out of readers, Garnet Flats continued Devney Perry's series The Edens with intense emotions, a soul-deep attraction, and a love strong enough to survive seven years apart.
"You'll win."
"Even if I don't, I won the fight that matters."
"Your title fight?"
He shook his head. "You. You are the biggest fight of my life."
Oh, how I loved him.
I was endlessly in love with Foster Madden.
Devney Perry might be an auto-buy author for me but I do try to go into each book with an open mind to see where the story takes me as well as how closely I connect with the characters. The feeling I got from readers online when I took a quick look at Garnet Flats was fairly extreme–some loved this one, and some, ahem, really did not. I'm in the loved it category, personally. Although I get why some weren't a fan of the hero, Foster, or Vivienne, Talia's former best friend. They messed up and hurt her. Big time. But there was a reason. And the easiest way to explain without giving spoilers is that Foster wanted to protect Talia (and even possibly her family) as well as Vivienne. Things could have been handled differently, for sure. But the intent wasn't malicious. Thankfully the apologies seven years later–and the groveling, lol–were definitely sincere and heartfelt.
It was nice to go back to Quincy, Montana, and catch up with the Eden family. We got to see where they all were in their lives. And of course the end of the epilogue set up the next book, about Eloise Eden and Jasper Vale, in an intriguing way. (Can't wait for that!) But the bulk of this was all Talia and Foster. And oh the angst, the twists, and secrets Perry threw at them. It was a bit of an emotional roller coaster learning about their fabulous year together, then the betrayal and heartbreak that happened, and how lonely Foster and Talia were for the seven years they were apart.
But I really adored them together. Talia was such a strong woman–a caring, intelligent, competent doctor–who doted on her family but sadly had no one to go home to after a tough shift. And Foster was a skilled UFC world champ, a self-made man who knew, after years of struggling, what was important in life: his loved ones. How could I not cheer these two deserving people on? And Perry patched things up in a realistic way that, yes, got messy at times but ultimately was exactly as it should have been from the start.
QOTD: If you see mixed reactions from readers about a book online, does that influence you on whether to read it or not?
Book Info:

Publication: Published July 26th 2022 | Devney Perry LLC | The Edens #3
Talia Eden loved Foster Madden for one year, two months and eleven days. It was on day 438 that her love died. The day he chose to marry her best friend. The day she vowed never to think of Foster again.
Until years later when he has the audacity to show up in her small hometown of Quincy, begging for her help.
The ink on his divorce papers is barely dry, yet he comes armed with apologies and promises. She knows it's all a ploy. Foster is the king of games and secrets. But he's got delusions the size of Montana if he thinks she'll help him train for a world championship fight.
Except Talia has forgotten exactly what made Foster famous. The man has dedicated his life to victory. He's steadfast. He's determined. And he won't stop fighting until he's won her heart.