The Princess He Must Marry is a unique take on a second chance marriage. Jadesola James has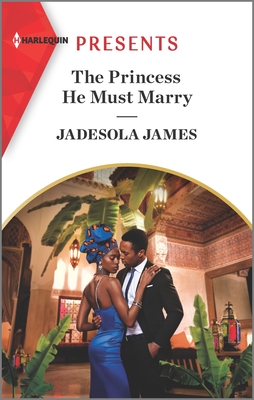 taken the Twelve Dancing Princesses and turned it into this rich tapestry of a fairy tale.
Brilliant, brilliant concept. Two people who feel trapped by their royal families see their only solution to escape is to marry each other. Together Akil and Tobi construct a deal and at the end of their ceremony go their separate ways but not before sharing an earth shattering kiss. Three years later when Akil desperately needs Tobi's help, she reluctantly joins his side to travel to his home and becomes his Queen.
Akil, the spare heir, isn't welcome in his homeland as the new King. Together he and Tobi work hard side by side to prepare for their new life, the coronation and showing the people they are dedicated to their country. Behind the scenes their attraction for each other is bubbling away. Thinking the only way to save Tobi is to send her away from his complicated life, he hasn't considered what Tobi wants and she's here to stay. But even the strength of a woman will only stretch so far.
Jadesola James has taken all the normal concepts of a Presents story and turned them on their head. At the same time she has crafted a tale of love and passion and culture and family from a world I am unfamiliar with. But whether it's the Eastern, Western, Asian or African world, love always translates as love and it shone through the pages of The Princess He Must Marry. The story is a rich tapestry of wonder and I was there for every page of it.
Beautiful story. Highly recommended to all second chance lovers.
Book Info:

Publication: July 2022 | Harlequin Presents | Passionately Ever After #6
Spare heir Prince Akil Al-Hamri's plan is simple: conveniently wed Princess Tobi Obatola, gain his inheritance and escape the prison of his royal life forever. Then they'll go their separate ways. It's going well, until he finds himself undeniably attracted to his innocent new bride! But claiming his freedom means letting Tobi go…
When disaster strikes, Akil becomes king and requires his queen by his side. But after he abandoned their chemistry on their wedding night, will Tobi agree to be his wife…for real this time?
Read all the Passionately Ever After… books:
Book 1: A Baby to Tame the Wolfe by Heidi Rice
Book 2: Stolen Nights with the King by Sharon Kendrick
Book 3: The Kiss She Claimed from the Greek by Abby Green
Book 4: A Scandal Made at Midnight by Kate Hewitt
Book 5: Cinderella in the Billionaire's Castle by Clare Connelly
Book 6: The Princess He Must Marry by Jadesola James
Book 7: Undone by Her Ultra-Rich Boss by Lucy King
Book 8: Her Secret Royal Dilemma by Chantelle Shaw