In Gentlemen Prefer Curves (Perfect Fit #3) by Sugar Jamison, Belinda is now 30, living in her home town and owns a boutique with her friend. She is trying to date again after a long hiatus, but so far none of the men she's been out with do anything for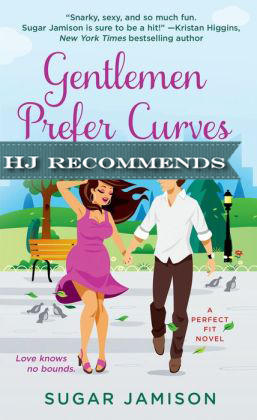 her. Imagine her surprise when her estranged husband Carter is suddenly there, living in her home town with his young daughter, and unfortunately, he still does it for her!
Four years ago Carter and Belinda has a whirl wind love at first sight romance and a wedding shortly after. They never really got to know each other well, and just a few weeks into their marriage part of Carter's past came knocking on their door, shocking Belinda and him. Between that and other issues in their short time together, Belinda just took off with no communication, no chance for explanations, no hope of working things out.
Estranged but not divorced, Carter left the rat race of the big city to be able to spend more time with his young daughter Ruby. He also wants another chance with Belinda. They have a lot of unresolved issues though, and Belinda doesn't think she can do it again. Before she knows it, they are spending a lot of time together, and Belinda is falling under Ruby's sweet spell. Can they have a second chance at marriage? Or is there too much standing in their way?
Gentlemen Prefer Curves is a hilarious, highly entertaining read filled with emotions and believable characters. I really found myself hoping that Carter and Belinda had matured enough over the years they were apart and could work it out. I really liked Belinda and how she loves herself how she is, stands up for herself, and is so good with Ruby. I had a harder time understanding her rational for leaving a marriage with no communication about any of the problems she had, and for the guilt she harbors around her relationship with her parents, feeling she let them down for living her life in a way that worked for her. There are no straight forward answers, and I felt that this made Belinda realistic. Her parents and the relationship she has with them is very interesting. I loved the unexpected way her relationship with her mother in law ended up!
Carter is trying to do what's right, trying to raise his daughter the best way he can. He is open and honest about what he wants. I really liked him and felt for him. Carter and Belinda's relationship is not easy, but Carter is determined to pursue his wife.
There are a lot of enjoyable secondary characters in Gentlemen Prefer Curves, and they all bring something unique to the story. I really enjoyed the relationship Belinda has with her two girl friends. They are open and honest with each other. Little Ruby is a miniature adult who brings so much to the story. She is a strong secondary character who adds life, fun, and more adventure to Gentlemen Prefer Curves. None of the characters are perfect, which will make you love them all more!
Sugar pulled me right into Gentlemen Prefer Curves and kept me there to the last page. Filled with emotions and lots of laughter, the plot is fast paced and the writing is clear. You do not have to read the other books in this series to enjoy Gentlemen Prefer Curves. I would recommend Gentlemen Prefer Curves to any contemporary romance reader who is looking to be thoroughly entertained.
Book Info:

Published September 30th 2014 by St. Martin's Paperbacks | (Perfect Fit #3)
Stuck. At thirty years old Belinda Gordon felt her life was at a total standstill. With her love life in the dumps, her best friends happily married and her parents smothering her, she decides her life needs a little bit of shaking up.
Just when Belinda is about to make a move, her estranged husband and the last man on earth she ever wants to see, Carter Lancaster, comes storming back into her life. And this time he's not taking no for an answer. Armed with his sweet daughter and a take no prisoners attitude, he's determined to win his wife back.
Can Belinda let go of their rocky past and let love in? Or will she let it prevent her from finding her happily ever after?