In Captivated we get not one, but two stellar novellas that are equal in their hawtness: Letting Go by Megan Hart, and Seize the Night by Tiffany Reisz. These stories may focus on completely different types of relationships and situations, but I was impressed with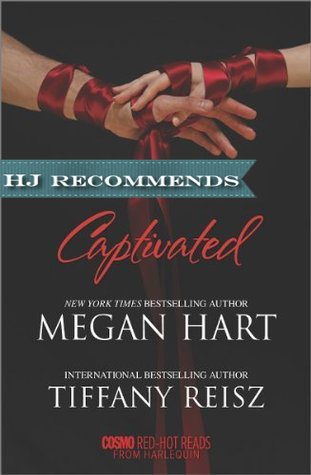 how well they work together, with each author's "voice" enhancing the other. That being said, let's check out the deets on these romances…
Letting Go by Megan Hart
Colleen and Jesse's pairing is all about control. They met at the local bar where Jesse bartends and which Colleen frequents every Thursday night. She's still emotionally wrapped up in her divorce a few years ago after escaping her verbally abusive husband. He continually told Colleen she was controlling and frigid. Turns out it's tough not to believe what someone yells at you for years. Then Jesse becomes the interested, attentive, deliciously handsome guy who knows what she wants before she asks for it. After they take a romantic turn on the dance floor on a snowy night, they give in to their temptations. But when Colleen unearths a need to be Dominant, a match for Jesse's submissive side, will she be able to let that part of herself free?
"You think I like telling you what to do?" Her eyes blazed, but she didn't look angry. Not quite.
"Yeah." He took a step closer, waiting for her to pull away. She didn't. "I think you do. I think you get off on it, the way I get off on you doing it."
This short story by Megan Hart was intense with a ton of hot and heavy moments. It plays around with the Dom/sub idea without getting too crazy or involved. I thought it was interesting to see both Colleen and Jesse growing to understand their needs and how they matched up so well. Mostly, I thought Colleen's issue with not wanting to be considered controlling was the biggest topic, and how that related to her proclivities in the bedroom. I could understand her confusion on how to separate her Dominant side from her persona the outside world sees. Jesse turned out to be a sweetheart, a very sexy one, and a terrific guy to get to know. It was nice to see a male submissive in this novella, and one who so genuinely cared for and respected his new found Dominant.
Seize the Night by Tiffany Reisz
A modern retelling of Romeo & Juliet but set in the horse world. Remi Montgomery and Julien Brite had one perfect moment together on a magical night a few Christmases ago. Unfortunately when their families found out, it caused a rift in the horse racing world with them at the center of the melee. Being from a famous racing family was never more inconvenient for Remi as she longed to spend more time with her handsome Julien, but they were forbidden from being together. When Remi learns of a secret that points to their families conspiring and potentially bringing harm to the business she's helped build, she enlists the help of Julien. Once she finds him, that is. And once they are in each other's arms again, all seems right with the world. The plan they devise is crazy and could blow up in their face. But if it means they can spend their lives together, it's more than worth the risk.
"We can't just pretend I'm not a Montgomery and you're not a Brite."
"Maybe we can for one night," he said. "You're just Remi. I'm just Julien. No last names."
Remi grinned at him. Not a bad idea. Whatever they did tonight was no one's business but theirs. Why should it matter what their last names were?
I loved both novellas, but this one stands out to me for some reason. Call me a hopeless romantic, but I think it's the play on Romeo & Juliet that had me swooning. Or maybe it was the tender passionate moments Remi and Julien had together. Or maybe even the sarcastic, hilarious comments from Remi's assistant Merrick. Okay, so it was all of it together. That's something I've noticed in the novels I've read by Tiffany Reisz; that all of the elements come together to create a perfectly complete picture of what the characters are going through. And here there was a lot of drama with the rivalry between the families and the forbidden love between Remi and Julien. There's another tragic element that I won't give away that added intensity to their romance as well, but it made their love so much more special. Don't worry, though. Ms. Reisz made sure this ended on a happier note than the original!
Overall, I think you will find both of these Cosmo Red Hot Reads novellas engaging and highly entertaining. They definitely lived up to the caliber of writing I would expect from two such popular and talented writers.
Book Info

Publication: October 28th 2014 by Cosmo Red Hot Reads from Harlequin
Double the passion and seduction as New York Times bestselling author Megan Hart and international bestselling author Tiffany Reisz weave two provocative tales about power, bad-boy lovers and secret desires!
LETTING GO by Megan Hart
Colleen goes to the same bar every night and orders the same drink: a whiskey, neat. She doesn't drink it, though. Jesse the bartender notices the beautiful, sad woman who keeps to herself. Until one night when she lets go and lets him in. And after that, Jesse has only one mission–to show her one night is only the beginning.
SEIZE THE NIGHT by Tiffany Reisz
Four years ago, a night of forbidden passion between Remi and Julien, the heirs of two powerful and competitive horse-racing families, led to a feud that is threatening to ruin both farms. Now Remi must find Julien again, but when she does, her need for Julien is just as strong and just as forbidden.