Keeping Cole's Promise by Cheryl Harper: This is yet another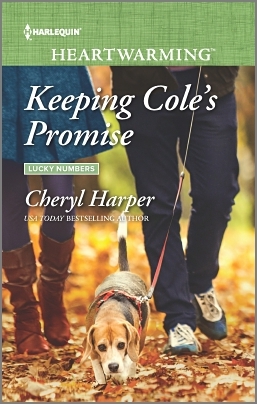 touching story of second chances, of having faith in others. And, this is another one of my favorites for the month! The theme of animal rescue in this story is close to home as my brother has worked with animal shelters and remains active in one he started from the ground up. I am a big believer that people should choose to adopt a rescue animal rather than from a breeder, as there are so many loving animals in need of a "forever family".
In "Keeping Cole's Promise", Cole is newly released from prison and determined to stay clean and live a simple trouble free life. He starts by securing a job at an animal shelter, initially on a probation period, but proves his work ethic and devotion to the animals- this turns the job into a permanent one. It certainly helps that he learned in prison how to train animals as service animals. He encounters Rebecca, who volunteers for the shelter, but is also a recent lottery winner and the town's high school guidance counselor. She is DEVOTED to helping place kids for college, and eventually realizes she needs to help place those kids who are not typically perceived as college material, and she works with one in particular to give him hope and goals.
Throughout, Rebecca must counter resistance from Cole and from Eric, the young man she tries to help. People in town are prejudiced against Cole due to his prison background. Gradually, the community realizes just how special Cole is and how special Eric is. Rebecca just never gives up in trying to help and nurture each of them! This was a story I did not want to have come to an end!
Book Info:

Publication: October 1, 2016 | Harlequin Heartwarming | Lucky Numbers
Eleven years ago, Cole Ferguson made the biggest mistake of his life, but now he can finally get back on track. The first step? Nail the job at the local animal shelter and keep his head down. But working at the shelter means spending time with Rebecca Lincoln. Rebecca is beautiful and kind but she's also determined to save the world. Cole isn't about to join her. Helping Rebecca would mean breaking his promise–running toward trouble instead of staying clear. She doesn't need him anyway. How could she ever see him as more than just another charity project?