In Getting Played by Emma Chase, Dean Walker's adult life has consisted of coaching football,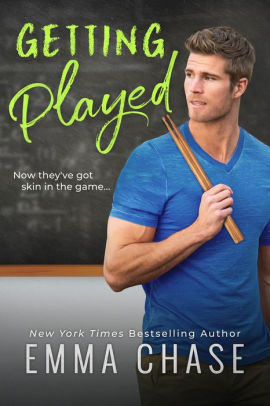 teaching advanced math at his local high school, and watching out for the woman who raised him, his feisty Grams. And he's totally fine with that. Never did Dean see himself getting hitched or having kids. After years of playing the field, he still keeps things casual. But one summer night while he's playing a gig with his band, he sets eyes on the most gorgeous woman ever. And somehow, one evening of bliss isn't enough for Dean. Flash forward a few months later and he finds himself face to face with Lainey again, only to find out two very important things: her teenage son is in his AP Calculus class, and she's pregnant. With Dean's child. From that moment on, he's a changed man. Now if only Lainey will believe him.
'Lainey was mine that night–every beautiful inch of her. And the baby we made that night is mine. Ours.
And I feel that, right down to the center of my bones.'
Lainey Burrows is making a bit of name for herself as a master of DIY on her own Facebook series. And now she has the opportunity of a lifetime to turn an entire home in need of some major work into her own for her series. Her celebration on a much-needed night out put her straight in the path of Dean–the sexy, cocky-as-hell drummer of a local band–a guy who is too tempting to turn down. Even if one-night stands aren't Lainey's thing. That night of passion turns out to have lasting consequences when she realizes she's pregnant. Things get more mixed up when Lainey's son is in Dean's class and they all have to learn to get along and make a plan for their complicated future. Only, the one thing she didn't think to include in those plans is what would happen if she lost her heart to Dean.
'From the jump, I thought that Dean was a good man–and he confirms it with every word out of his mouth. He's smart and talented and funny–and let's not forget the hot. So very, very hot.'
A surprise pregnancy romantic comedy that will give you *all* the feels, Getting Played by Emma Chase will have you laughing outright and leave you with a smile that won't fade, even after the last page is read.
"Real love–the kind of love that slams into you and holds on even when you don't expect it–it's so worth it. It's worth everything."
I love me some Emma Chase rom-coms as everyone has figured out by now. And I'm not kidding when I say that Dean and Lainey had me giggling and snorting with laughter with their flirty, hilarious conversations and the awkward situations they found themselves in. That's one thing that I adore in Chase's romances. She doesn't leave out the every day, real life, cringe-worthy things that happen to people and instead she uses that to show her characters' true strengths and weaknesses. And we definitely get a feel for who Lainey and Dean were by the end with all they went through!
In keeping with Chase's penchant for sexy, swoon-worthy heroes and strong, intelligent, kickass heroines, Dean and Lainey fit those molds perfectly. But they were still unique and all kinds of awesome in their own way. I mean, our hero was a geek-chic AP math teacher who was a former football player and current football coach who also happened to be a drummer/singer in a local rock band. Dean was a cool guy but had made some not so great choices in the past when it came to women. But he always, always had a good heart–which was evident in the way Dean took care of his grandmother. (Grams. Was. The. Bomb!!) I think what I loved about him was that he knew he'd crossed some lines in the past and he owned it. He was looking to turn over a new leaf with Lainey and was all in, ready to make up for that past and to prove his good intentions with her and the baby. *sigh*
And Lainey. She was a one-woman dynamo who could DIY a house like no one else and could lovingly take care of her truly wonderful teenage son the whole while. She was a fun mix of naughty and nice. Dean was supposed to be Lainey's one and only one-night stand but that didn't turn out the way she expected when she found out she was preggers. And the tough time she went through finding Dean after the fact led to the tension and hilarity of the situation. I had to admire Lainey for how strong she was and for being such a compassionate woman. I got a kick out of her relationship with her many sisters (one of whom was in Tied, book #4 of the Tangled series…) and especially with her son Jason–who made a perfect team. It was only made better with Dean becoming a part of the mix.
Getting Played was classic Emma Chase hijinx with a ton of heart and an epilogue that will have you crying happy tears. Whether you're already a fan of her work or if you're new to it, this rom-com will surely find a place in your heart.
Book Info:

Publication: October 8th 2019 | Emma Chase, LLC | Getting Some #2
A magnificent new romance by New York Times bestselling author Emma Chase.
Dean Walker is all about keeping life simple. He's effortlessly talented and intelligent—spending his summers playing drums in the local band and the rest of the year teaching high school in the same Jersey town where he grew up. He likes his love life simple too, enjoying the commitment-free hook-ups his good looks and sexy charm have always made oh so easy.
Then he meets Lainey Burrows. And his simple, easy life gets turned upside down.
One wild one-night stand was all it was ever supposed to be, so Lainey is shocked when she discovers that her sizzling summer fling is also her son's new math teacher. But that's nothing compared to the most unexpected twist of all—their hot hook-up left Lainey knocked up, and now they're about to become parents. Together.
What ensues is an addictive, insatiable, sweet and tender romance that won't be simple, but it will be more than worth the fight.