In The Boyfriend Contract by Victoria James, Emily Birmingham has decided to follow her own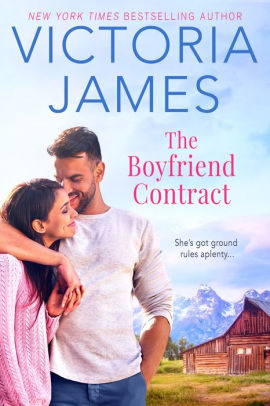 path after believing her late father betrayed her. Deciding to head to Canada after inheriting her grandmother's house, Emily never expected to fall in love, especially after everything that's happened in her life lately. However, the more she gets to know Cooper Merrick, the more she discovers that Canada is the place she's meant to be. Will Cooper and Emily be able to overcome the pains of their pasts to have a future together?
"Why would I want blueberries in my beer? If I want blueberries, I'll eat blueberries. If I want a beer, I'll drink a beer." Emily turned to watch Cooper's expression because the humor in his deep voice and the affection he showed towards his sister made him even more interesting to watch.
"You need to step out of your comfort zone," Callie responded with a pointed stare.
He pulled his chair upright. "Why would I want to do that? Comfort is the ideal zone to be in."
What a delightful, fast-paced, engaging read Ms. James has delivered in this story, which tugged at my heartstrings due to the main characters back stories and everything that has led the heroine to move to Canada because she believes those that love her betrayed her in a big way. Will the truth prove differently? However, it was from the moment the hero and heroine come face-to-face for the first time where this story really takes off, as the hero is very attracted to Emily and doesn't want to be. Will he be able to resist the temptation she presents to him?
"I need to talk to you about us."
He leaned against the door, pulling her with him. "What about us?"
"Well…now that the weekend is over, what happens? Your brothers are here. How do we act? Was this just…"
"Maybe we should refer to the contract."
With the main characters, both were relatable and likeable characters and I loved their interactions with the secondary characters, as Emily begins to realise that she finally belongs somewhere and that settling in where she's ended up might be a good thing. Certainly, she makes friends easily and I loved how she fit in so well with the Merrick family who are everything that the only family member she's got left isn't. Really, they're kind and caring and determined to help her while her brother is someone to be feared and I could understand why she's so determined to make a go of her new life because who needs someone like her brother in their life? While the hero, he's had a tough time in losing someone he loved and I couldn't help but sympathize with him because moving on means finally letting go of the one he loved and lost. I also liked the closeness Cooper has with his family and how determined they are to make him realize that finding love again is a good thing. Will his late wife's mother realise that Cooper deserves a second chance at happiness too?
Overall, Ms. James has penned a poignant and wonderful read in this book where the chemistry between this couple is tangible and present from the moment they meet and certainly grows as these two become much more comfortable around each other; the romance was on the sweet side but had me loving that they took a chance on each other; and the ending had me worried for the heroine because of what happens between her and her brother but had me enjoying the hero's determination to win the heroine over. Certainly, it's a brilliant idea Cooper has to win her over. I would recommend The Boyfriend Contract by Victoria James, if you enjoy sweet romances, the strangers to lovers trope, small town romances or books by authors Sonya Weiss, Carrie Nichols, Donna Kauffman and Peggy Jaeger.
Book Info:

Publication: September 23rd, 2019 | Entangled Publishing |
Emily Birmingham has had it up to here with men.
Growing up with an overbearing father and then her brother inherits everything she's worked her whole life to build. Now she's living in her grandmother's dilapidated house in the middle of nowhere Canada, jobless, and dealing with the most annoyingly sexy contractor on the planet. Exactly when did her life become an anti-Hallmark movie?
Cooper Merrick learned the hard way that love is definitely not worth the risk. He's happy running the family contracting business alongside his well-meaning but overly-opinionated brothers…happy enough until polished and perfect Emily enters his world. Nothing prepared him for the ways she turns his life upside down and reaches the parts of himself he's closed off from the world.
But when he finally gets up the nerve to ask Emily out, she says her next date will need to come with a written contract and some very particular ground rules. Yeah, it sounds crazy, but why does he find himself wanting to sign on the dotted line?