Girl Gone Viral by Alisha Rai: Former model turned angel investor, Katrina only wants privacy and to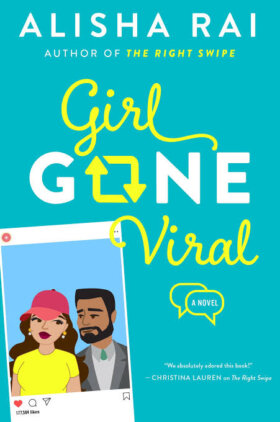 enjoy her life on her own terms. Her much needed privacy was rudely taken from her when a supposed 'do-gooder' captured what they believed to be a 'meet-cute' while at the local café.
"I've always thought it would be romantic to have a meet-cute with someone, but I think actually we're in a perpetual meet-cute, you know? Like it's never-ending, us finding each other."
Being crippled by anxiety for most of her life Katrina has been making a conscious effort to immerse herself into regular life. Deciding to stay for a while after her therapy session to enjoy a cup of coffee and some people watching, turned into Katrina being the focus of said people watching. When a cute stranger asked if he could share her table in the crowded café, being the nice person that she is Katrina obliges. However the couple at the table next to her seems to take this act of kindness as the starting of what could be an epic romance. Snapping a pic of them together and then going on to post said picture on Twitter while fabricating their version of the meet-cute. While in reality nothing came of this supposed meet-cute, as Katrina has been secretly in love with her bodyguard Jas all this time.
"Oh the zings! The zings were different then they'd been the day before. Sweeter, familiar, more intense. What if the zings grew exponentially every day? Would she short-circuit at some point?"
When news breaks that the entire internet is now in search of the mysterious #CuteCafeGirl, Katrina fears her much need anonymity will soon be ripped away from her. Wanting to do anything to help ease the tension for the woman he has secretly loved, Jas suggests that they go to his family's farm for awhile, or until all of this social media hype dies down. What started as a getaway from the social media circus turns into the two growing closer and uncovering their mutual attraction, all while dealing with Jas family and all that came with him leaving them for his life as a bodyguard.
"It seems that I have developed feelings for you at some point. I thought I could shove them away. Swipe them away with someone else. But I don't actually know if I can re-create what I feel for you with someone else."
I loved the story Rai built for us with this multilayered romance. I loved Katrina's character and her love for cooking for the people close to her and her pure giving nature. Even with her anxiety disorder always at the corner of her mind she did not let it over rule her. Rai did a very good job at portraying life living with anxiety and all the hurdles that come with it. The tone of mental health continued with our male lead, Jas, who as a veteran was dealing with his own PTSD, and the prospect of therapy and opening up about his past. Both characters are incredibly selfless and that is seen in the way that they are both nurturers.
This novel deals with a number of heavy issues ranging from mental health, privacy or lack there of in a world of social media, sexuality and family dynamics. Rai has done a wonderful job at touching on each of these topics and shinning light on their serious nature. I think she has done a good job at showing how most people would not or rather do not take into account the levity of their actions in the social media world that we live in.
"Happiness is a radical act."
I absolutely loved Girl Gone Viral, this novel was an enjoyable read with a cute love story woven into important issues.
Book Info:

Publication: April 21st 2020 | Avon | Modern Love #2
In Alisha Rai's second novel in her Modern Love series, a live-tweet event goes viral for a camera-shy ex-model, shoving her into the spotlight—and into the arms of the bodyguard she'd been pining for.
OMG! Wouldn't it be adorable if he's her soulmate???
I don't see any wedding rings [eyes emoji]
Breaking: #CafeBae and #CuteCafeGirl went to the bathroom AT THE SAME TIME!!!
One minute, Katrina King's enjoying an innocent conversation with a hot guy at a coffee shop; the next, a stranger has live-tweeted the entire episode with a romantic meet-cute spin and #CafeBae is the new hashtag-du-jour. The problem? Katrina craves a low-profile life, and going viral threatens the peaceful world she's painstakingly built. Besides, #CafeBae isn't the man she's hungry for…
He's got a [peach emoji] to die for.
With the internet on the hunt for the identity of #CuteCafeGirl, Jas Singh, bodyguard, friend, and possessor of the most beautiful eyebrows Katrina's ever seen, comes to the rescue and whisks her away to his family's home. Alone in a remote setting with the object of her affections? It's a recipe for romance. But after a long dating dry spell, Katrina isn't sure she can trust her instincts when it comes to love—even if Jas' every look says he wants to be more than just her bodyguard…