Girl Least Likely to Marry by Amy Andrews is the second full-length book in KISS' 'Wedding Season' series. So far, I'm loving each story, and I feel like I'm getting to know the characters pretty well. This book concentrates on Cassie/Cassiopeia (or #geekgirl as she is known on twitter) and Samuel "Tuck" Tucker (#jock).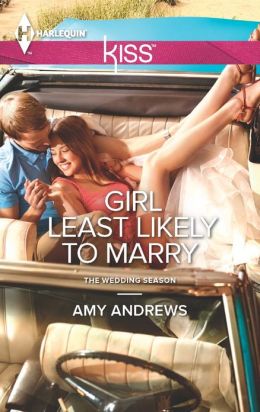 Cassie is the quiet, bookish, and practical girl in the 'Awesome Foursome', and as such, has taken advice from her three best friends about having fun in stride. She can see the logic in that – I mean, letting loose once in a blue moon will blow off some steam and allow you to get back to business afterward. But after college she puts her nose to the grindstone and concentrates on her work as a astrophysicist. She has certain goals to reach, and nothing can deter her from them.
Tuck is Dylan's (the jilted groom from "The Unexpected Wedding Guest) best friend, and cousin to the jilter, Reese – another of the Awesome Foursome. Since he is firmly in "Camp Dylan", Reese puts him far away from the opposition at her would-be wedding reception. Cassie is the most pragmatic and objective, so it's only natural she'd seat them together. That's fine with Cassie. Even she can put up with a dumb jock for an evening.
When Gina – the last of the foursome – gets hit on by Tuck, she's not terribly interested. At least, not for herself. She knows her often backwards friend won't be charmed by the ex-quarterback, so she dares him to get Cassie to dance with him. Sounds like a fun way to get some entertainment out of the evening. What she doesn't count on is the irrational hormonal reaction between the two.
Cassie finds herself so distracted from her work that she's doodling his name all over the pages of her journal. When she leans on Gina for advice, she's told that indulging her wants might get her back on the right path. One night – she could do one night. But when one night turns into much longer, how will she explain the feelings logic can't rationalize?
I absolutely *loved* this book. Probably because I can relate somewhat – I mean, I'm a huge geek myself.  So I guess I really connected with her for the most part. I have to admit, however, that the whole smelling thing was kinda weird, but then, so was Cassie.
I liked how Tuck played on the 'dumb jock' image that Cassie projected upon him – until his cousin outed him. I liked the depth of his character, and I swear, I'd be totally in love with him too. If I had one nitpick it'd be that a couple of times Tuck's dialogue is a little 'Aussie-ized', but I know Amy is from Australia, so I'll give her a pass. 🙂
Book Info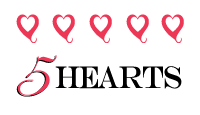 Publication Date: July 23, 2013 | Series: Harlequin Kiss (Book 25)
Talk nerdy to meSamuel Tucker is absolutely the last person scientist Cassie Barclay would ever date. Yes, he's gorgeous, but he's also far too cocky for his own good and thinks that Pi is a tasty afternoon treat. So when he asks her to dance at her friend Reese's non-wedding she's wondering why on earth she says yes!Tuck is used to people assuming he's all brawn and no brain, and amuses himself by winding Cassie up. But when he finally takes her to bed, suddenly it's Tuck who can show Cassie a thing or two! Can he convince her that love and sex have nothing to do with logic and everything to do with chemistry?