In GODDESS OF FORGETFULNESS (Immortal Matchmakers, Inc. #4) by Mimi Jean Pamfiloff, After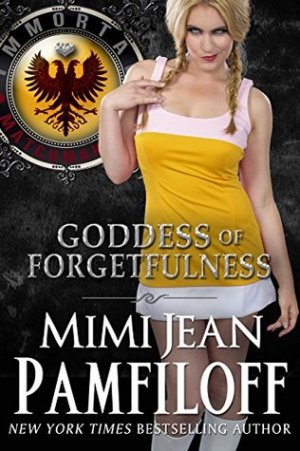 watching several of her brothers and sisters find their one true mate and stop the process of turning evil, Forgetty, aka the Goddess of Forgetfulness, is now on the hunt for her hunk as well. Otherwise the world will fall victim to her "gifts" which will turn everyone into drooling puddles of amnesiac goo. It seems that the Universe has quite the sense of humor, though. Because the only man Forgetty feels that connection with–and the only person who doesn't forget her in thirty seconds–is rude, dangerous, a bit condescending, and…okay. He's also pretty hot.
'That numbing in her fingertips could only mean one thing: Her countdown had begun. If she didn't find a man–her man–she would turn evil.
And gods help us all. A rogue Forgetty meant an irreversible worldwide amnesia epidemic.'
Right from the start Forgetty knows Távas is not who he claims to be. And as she feels the darkness rise within her, she knows she could easily threaten or torture the truth out of him. But what happens if she can't handle the truth? 'Cause it turns out that Távas has a much more checkered past than Forgetty ever could've dreamed. Somehow, though, she surprisingly still hopes that they can find a way to make their fated relationship work. It may take some convincing to get her brothers and sisters to back her decisions, but even with a new grudge against Cimil brewing, Forgetty thinks she can get everyone on board with her plans.
'If he was truly her mate, his soul would start pulling hers away from the edge of darkness and she would do the same for him. Love was the most powerful force in the Universe, and more of it could only help him.'
The Gods and Goddesses were their wacky, sometimes evil, sometimes loving–and in Cimil's case, bat crap crazy manipulative–selves in Goddess of Forgetfulness. In true Mimi fashion, readers will never expect where things end up. But then again, that's half the fun!
'Basically, the one man on the planet she found offensive and did not want to get to know was the one man the Universe had comically (and sadistically) pushed her towards.'
Learning all about Forgetty was a crazy good time. And I'm happy to say I liked her just as much as I was hoping I would from what we've seen of her in previous books. We got to watch her here in all her go-go boot wearing, DJ record spinning glory. What surprised me was how much my heart went out to Forgetty as we saw how lonely she was and what it did to her to be so, well, forgettable. But she had pretty much learned how to handle it over the centuries and I had to give her props that she still wanted to make people happy by using her skills as a DJ. I kind of loved that music had been something special to her over the years and that she shared it with humans across the world. Through those moments, people in some way actually remembered her, even if it was just the memories of the music she spun and how much of a great time they had at her clubs.
There's a whole bunch of things I want to mention, including who Forgetty's mate truly was. But I won't spoil it for readers. As with all of the other books thus far, so much happened in this installment that I felt like I should be taking notes. (Okay…maybe I did. lol) Forgetty and the rest of the Gods and Goddesses were scrambling to prevent those who were not mated from "flipping". And that was one of the biggest problems for her as her mate was not exactly a nice man. But Távas did have some goodness in him, so I loved watching both sides play out in his personality, as well as with Forgetty as the flip started changing her towards evil. In addition to their very, very tumultuous relationship which was in turns heartbreaking and then heartwarming, we had Cimil up to no good as usual and Zac still in the midst of his flip and on the search for Tula. Wow did Zac and even Cimil's parts of the storyline *not* go like I thought it would. Let's just say that things are going to be even more messed up with book five.
With every plot twist that made me gasp at the unexpected, I had to remind myself that this is MJP and she always has her reader's best interests at heart. Sure there might be cliffhangers (there was with this book) and we might doubt that characters will get their HEA (not sure about Zac) and, yeah, I can see her sitting back laughing gleefully at how she messes with her readers. Er, I mean characters. But I always know I'll have a ball reading an MJP book. So it's totally worth it.

Book Info:

Publication: January 24th 2018 | Mimi Boutique | Immortal Matchmakers, Inc. #4
From New York Times Bestseller, Mimi Jean Pamfiloff
Book #4, the Immortal Matchmakers, Inc. Series
(Standalone)
"FORGET ME! PLEASE!"
The Goddess of Forgetfulness has spent seventy thousand years wishing for a man to remember her for more than five seconds. But when her wish is finally granted, she's appalled. Távas is cocky, handsome, and seven feet of rude muscled man. He can't possibly be her mate! But all signs are pointing to yes. Okay, at least a strong maybe.
Is this some sort of cosmic dating error? She darn well hopes so.
Determined to discover the truth, she agrees to one date. Just one! But the night is about to reveal that his real identity is crazier and more alluring than she ever imagined.